Raining in Hong Kong? Here are the best things to do while staying dry including visiting museums and galleries, indoor activities like karaoke and more…
When it rains in Hong Kong, it really pours! If you were planning a day at the beach, out hiking or even a drink at a rooftop bar — you're going to have to put a rain check on those plans. But that doesn't mean there's nothing left to do in the city! From museums to shopping, dining, photo walks, escape rooms and more — we've rounded up our favourite dry and indoor activities to do when there's bad weather in Hong Kong. And if all else fails, there are always plenty of films and shows to stream online…
Editor's Note: This list of dry, indoor activities is for gloomy rainy days — but not when there's an active rainstorm or typhoon! Pay attention to bad weather announcements and take all the necessary precautions, like staying home and taking shelter. If you need more guidance, we've outlined everything to know here. 
---
Jump To:
Free Things To Do Indoors
Group Things To Do Indoors
Indulgent Things To Do Indoors
Read More: Hong Kong Typhoons 101 – Signals, Rain Warnings & More
---
Free Things To Do Indoors On A Rainy Day
Head To A Museum!
Museums offer gorgeous showcases on every topic under the sun, from natural science and history to arts, technology, cultural heritage, maritime, space and more. Should the weather disappoint, you'll stay cool and dry — and it all comes at little to no cost. Note that not every single museum in Hong Kong is free so here are a few you won't have to pay for (especially on Wednesdays!):
Hong Kong Heritage Museum — History, art and culture under one roof, housing five permanent and six thematic galleries. www.heritagemuseum.gov.hk
Hong Kong Museum of Art — Curated collections of ancient and contemporary works from local and international artists plus a selection of items decorated with fine art available to purchase. hk.art.museum
Hong Kong Museum of History — Our city's local folk culture, colonial past, Japanese occupation and more, plus cultural objects related to the archaeology, history, ethnography and natural history of Hong Kong and Southern China. hk.history.museum
While you do have to pay admission for these museums, they're still worth checking out:
Hong Kong Palace Museum — Priceless treasures from the Palace Museum on loan, exhibited in Hong Kong for the very first time. Get in for free on Wednesdays (until July 2023). www.hkpm.org.hk
M+ — Cultural hub housing 33 galleries, a cinema, a stunning shop, and restaurants with truly unbeatable harbour views. www.mplus.org.hk
CUPNOODLES MUSEUM Hong Kong — Two workshops from the original in Osaka, Japan, plus a new world-exclusive workshop. www.cupnoodles-museum.com.hk
Hong Kong Science Museum — Interactive and immersive exhibitions about science, technology and astronomy. General admission is $20 and free on Wednesdays. hk.science.museum
Hong Kong Space Museum — $20 and free on Wednesdays
Read More: The Best Museums In Hong Kong
---
Visit An Art Show Or Go Gallery Hopping
Hong Kong is an art hub (and even has a dedicated month to city-wide fairs and happenings!) so there's truly no shortage of modern and contemporary art-related pop-ups, exhibitions, happenings and galleries. We'd direct you to a new or ongoing show or even towards a permanent institution — where you'll find everything from interactive installations to human-scale sculptures, oil paintings, cityscape photography and more!
Read More: Must-See Hong Kong Art Exhibitions
---
Take In A Cultural Landmark
Take in Hong Kong's rich culture when you visit one of the city's landmarks including:
Read More: Your Ultimate Hong Kong Bucket List
---
Explore A Historic Revitalised Building — PMQ, Tai Kwun, Central Market
With no doubt, touring the city's historic revitalised buildings and sites must be on your Hong Kong bucket list! These beautiful old structures have come back to life to become host to fine dining establishments, exhibition spaces, shopping destinations, cultural hubs and more. Some of our favourites include:
Blue House — One of the few remaining "tong lau" style residential balcony-type tenement buildings.
Central Market — The very first wet market in the city, now boasts pop-ups and stalls, exhibition spaces, a food hall and more.
PMQ — Refurbished and renovated in 2014, turning its residential units into small exhibition spaces, studios, shops and offices.
Tai Kwun —  A cultural and shopping destination, with plenty of historical exhibits and immersive art showcases.
The Mills — Nan Fung Textiles' former cotton spinning mills is now a beautiful space dedicated to sustainability and artistry.
Read More: 8 Historic Revitalised Buildings In Hong Kong
---
Spend The Day At A Public Library
Did you know there are actually 70 static and 12 mobile public libraries in Hong Kong? We may steer you towards the Hong Kong Central Library in Causeway Bay — the city's largest, where you can browse an extensive collection of books, audiovisual materials and more — but each library is worth a visit!
---
Group Things To Do Indoors On A Rainy Day
Delight In Dim Sum
Yum Cha is a crowd-pleaser, with a range of dishes to suit various palates. Take shelter early in the morning and head to one of our favourite joints with a group. Small plates and ceaseless pots of tea await. We've rounded up all of our favourites but here are a few special mentions to get you started:
Dim Sum Library – Best for a modern take on classic dim sum. dimsumlibrary.com.hk
Dimdimsum – Quality dim sum at affordable prices. www.dimdimsum.hk
Lock Cha – Best for vegetarian dim sum. www.lockcha.com
Sun Hing – Best for late-night dim sum, open daily from 3am to 4pm!
Read More: The Best Hong Kong Dim Sum
---
Challenge Yourself With An Escape Room — LOST Hong Kong, Sandbox VR
Distract from the rain and the city with this indoor adventure. We love a good escape room — especially with a decent-sized group! Put your brain, strength and maybe even your friendships (you'll need patience and communication!) to the test when you pick up a mysterious challenge and attempt to break from your space:
LOST Hong Kong — A number of storylines and rooms to choose from across four locations. losthk.com
Sandbox VR — An escape room with a futuristic virtual reality twist. sandboxvr.com/hongkong
Read More: Our Favourite Group Activities For Work Bonding
---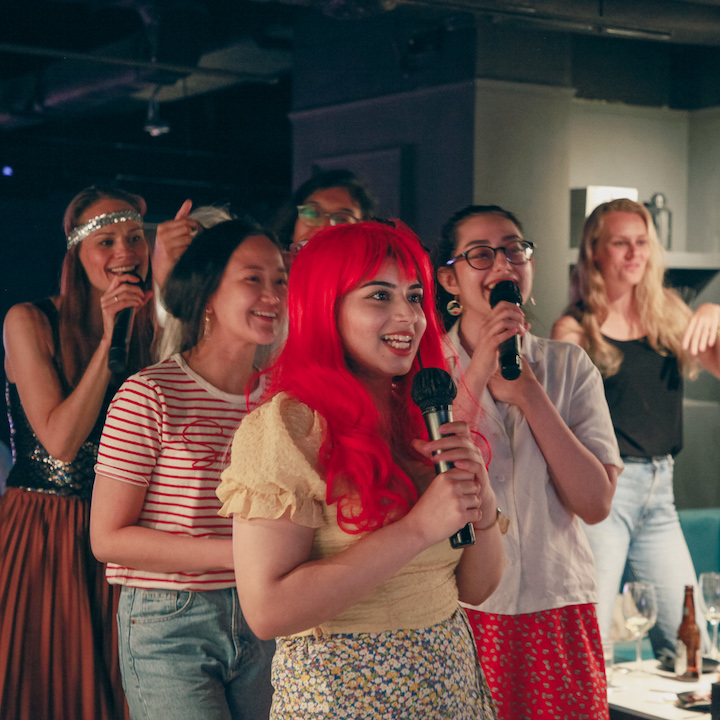 Show Off Your Vocals At Karaoke — Music Box Karaoke, Neway Karaoke Box HK, Red MR, Blackroom
Perhaps the ultimate indoor activity in Hong Kong, karaoke is beloved by Hongkongers and Team Sassy! Belt out the classics at the top of your lungs, with little to no organisational effort. Simply book a room for your group and you're good to go! We love these karaoke places when it's raining in Hong Kong:
Read More: 6 Best Karaoke Songs To Get The Party Started – Team Sassy Shares Our Go-To's
---
Get Competitive at a Board Game Cafe
Hands up – who loves a good board game? There are a couple of board game cafés dotted around the city, with most serving up a selection of snacks and coffees alongside their abundance of games. Expect to pay a small minimum fee for hours of competitive fun. Some of our favourites for rainy days include:
Wheat and Wood — Popular spot, hidden in Kennedy Town. www.wheatandwood.com
Jolly Thinkers — Well-stocked board and card game store and cafe with plenty of tables for families and friends. www.jollythinkers.com
Read More: 10 Unique And Unusual Things To Do In Hong Kong
---
Try Out An Indoor Sport: Laser Tag, Bubble Soccer, Bowling, Roller Skating & More — Crossfire Arena, Impact Force CQB, Resalaser, Ryze Hong Kong, Bun's 2020
While we do love the city's outdoor sports (from hiking to watersports and more!), Hong Kong actually has a surprising amount of unique, indoor activities to try — which is perfect for rainy, stormy weather. Laser tag arenas, bubble soccer places, indoor trampoline parks, roller skating rinks and more. Don't know where to start? Here are a few indoor sports arenas and places you can visit:
Read More: The Best Bouldering & Indoor Rock Climbing Gyms In Hong Kong
---
Go Back In Time At An Arcade
Old school! IG-worthy and a whole lot of fun, a great way to spend a rainy day is heading to one of Hong Kong's arcades. Whether you're looking at something like Jumpin Gym U.S.A or a video console game arcade, you'll find plenty on Hong Kong Island and in Kowloon, particularly in basements or hidden amongst the bustling streets of Mong Kok. We like Game Centre in Central, Game Zone in Mong Kok and Hong Kong City Game in Wan Chai. Expect classic games like Street Fighter, Dance Dance Revolution and Mario Kart!
---
Get Creative With A Cooking Class — BakeBe, The Mixing Bowl, Foodcraft HK — Or An Art Jamming Session — artjamming, Choco L'ART Studio, Studio 83
Use the imminent rainy days as the perfect excuse to check out creative classes like art jamming, pottery, calligraphy, cooking, or even glass blowing. Hong Kong has plenty of options available:
Read More: We Get A Masterclass In Sourdough Bread Making At Foodcraft
---
Go For A Movie!
Whether you're looking to catch an independent art house release or the latest blockbuster, there's really nothing better than heading to a movie theatre, grabbing some popcorn and settling down to watch a film. Sure, we love staying in and streaming the latest shows but our city is home to plenty of cinema chains (like Broadway Circuit and MCL Cinemas) and exclusive movie theatres (like M+ Cinema and K11 Art House), plus film festivals, that are worth visiting in person.
Read More: The Best Movie Theatres & Cinemas In Hong Kong
---
Take Advantage Of Happy Hour
If all else fails, you can always find a bar and make the most of the city's best happy hours. With offers available everywhere from Causeway Bay to Central, it's not hard to pop into a bar and find a good drinks deal wherever you are. Check out our neighbourhood guides for the best places to drink by district.
Read More: New Drinks Menus This Month
---
Indulgent Things To Do Indoors
Go For a Boozy Brunch With Plenty Of Free Flow Drinks
Come rain or shine, brunch is always a good choice. And we definitely don't need reminding that there are countless restaurants offering up incredible and indulgent brunch menus all over the city. When the rain won't stop, we recommend going for the free-flow options — what better way to spend a dreary afternoon than by dousing yourself in Veuve Clicquot?
Read More: The Best Brunch Places In Hong Kong — Free-Flow Drinks, Hotel Buffets & More
---
Treat Yourself To Afternoon Tea
Pause your day of shopping and museum hopping for a sophisticated afternoon tea. The perfect rainy day antidote, gather some friends and enjoy a relaxed afternoon indulging in pastries, cakes, finger sandwiches and a couple of glasses of bubbly. With plenty of high-end hotels in Hong Kong, there's an endless list to choose from to suit a range of budgets. Not sure where to start? Check out our ultimate guide to afternoon tea here.
Read More: Afternoon Tea In Hong Kong — Where To Go For High Tea
---
Indulge In A Luxurious Spa Treatment
And whilst you're treating yourself — why not go all out with a spa day? Again, many of the hotels all over the city have incredible spa facilities so whether you're going for a facial or a massage, there are plenty of options to choose from. You could also go for a more budget-friendly option by heading to a nail salon or going for a foot massage.
Read More: The Best Spas In Hong Kong – Massage, Facials And More
---
Go Shopping
You're not going to want to brave the Ladies Market or other outdoor markets but Hong Kong has plenty of malls to duck inside when it's raining!
Read More: Your Guide To Outlet Malls In Hong Kong
---
Editor's Note: "Your Guide For What To Do When It's Raining In Hong Kong" was originally published by Annie Simpson and most recently updated in June 2023 by Sakina Abidi.
Main image courtesy of Christian Tagalog via Unsplash, image 1 courtesy of Hong Kong Palace Museum via Instagram, image 2 courtesy of teamLab Future Park, image 3 courtesy of Chi Lok TSANG via Unsplash, image 4 courtesy of Dimdimsum via Instagram, image 5 courtesy of Sassy Media Group, image 6 courtesy of Bun's 2020, image 7 courtesy of Sakina Abidi for Sassy Media Group, image 8 courtesy of MOViE MOViE Pacific Place via Facebook, image 9 courtesy of Jiangsu Club, image 10 courtesy of Four Seasons Hotel Hong Kong via Facebook,