What do our readers and our team have in common? We've all fallen in love with the taxi-clogged, dai-pai dong lined, crazy skyscraper city of Hong Kong. Whether we were born and raised here or arrived as adults, our appetites for all things Hong Kong are insatiable!
We're here to inject a bit of sass into your day-to-day and help you navigate this buzzing metropolis… make the most out of life in the city that truly never sleeps! From swanky bars with a view, to hole-in-the-wall eateries, to fail-safe shopping spots, to our favourite hikes, we scour the streets to find all the very best that Hong Kong has to offer (in our humble opinions!).
The team
The contributors
MAURA THOMPSON
CO-FOUNDER
More
VICKY HUFFEY
MANAGING DIRECTOR
More
ELLY LIU
ADMINISTRATIVE ASSISTANT
More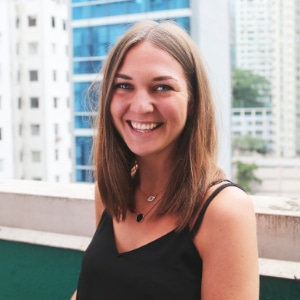 ANNIE SIMPSON
EDITOR
More
TANIA SHROFF
EDITOR
More
SURMAYEE TETARBE
PARTNERSHIPS MANAGER
More
ELLE NOBLE
PARTNERSHIPS MANAGER
More
MANSHA CHANNA
PARTNERSHIPS MANAGER
More
Daisy Dudley
ART DIRECTOR
More
Sabrina Sikora
ADMINISTRATIVE ASSISTANT
More
Novella Lui
More
Carrie Johnson
More
MAURA THOMPSON
CO-FOUNDER
I'm originally from Philadelphia, Pennsylvania (USA) and have called Hong Kong home since 2008. I have loved seeing Sassy grow over the years and I am so thankful that we have such an awesome team who are always ready and willing to try things for the sake of Sassy. We have a term around the office called #diditforsassy and over the years I have definitely done that. From Brazilian wax trials, to getting spray tanned at home in my bikini for a YouTube video (the video doesn't exist anymore, thank goodness!), to letting our readers vote on what hairstyle I should get (they voted for a fringe and I did go through with it!).
These days, I'm obsessed with one day building the perfect capsule collection and would finish every day if I could with a 45-minute Aqua Luna sail around the harbour before heading home.
What I love about Hong Kong
Foot massages. Being able to easily do a hike, beach trip and city drinks all in one day. The beautiful pastel colours on the apartment buildings (you just have to look up to appreciate them!).
VICKY HUFFEY
MANAGING DIRECTOR
Born and raised in the UK, I arrived in Hong Kong in 2012 and fell in love with this diverse and buzzing city. I'm an avid hiker, dragon-boater, happy hour participant, and general explorer, and Hong Kong feeds my curiosity in every way.
What I love about Hong Kong
That it has very distinct seasons, which allow me to lead to a great outdoor life. I can enjoy a sundowner on the beach during the heat of summer, hot beancurd desserts on the hiking trails during winter, and junkboat trips several months of the year. Plus, the year-round cultural events and festivals (Clockenflap anyone?) mean I'm never bored. What's not to love?
ELLY LIU
ADMINISTRATIVE ASSISTANT
I was born and raised in China, and moved to Hong Kong in 2013. I'm a huge fan of wildlife, the outdoors and pandas (I can spend an entire day watching videos of pandas eating bamboo). Living in Hong Kong lets me enjoy eating endless dim sum, taking in the gorgeous harbour views and being a part of team Sassy.
What I love about Hong Kong
How easy it is to travel to nearby countries, hiking trails and the incredible theme parks!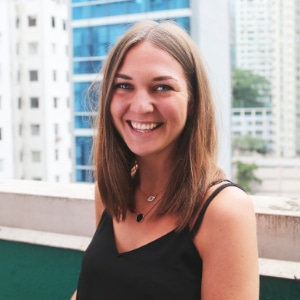 ANNIE SIMPSON
EDITOR
A born and bred Brit with a constant sense of wanderlust (and an insatiable appetite to match!), I'll travel far and wide for a good meal. So, it's no surprise that Hong Kong lured me in with its delicious food, but has won me over for good with everything else it has to offer. Although I love the fast-paced city life, I'm dreaming of the day when I'll retire to the English countryside with a dozen pugs.
What I love about Hong Kong
The two most common phrases that come out of my mouth have got to be "I'm hungry" and "I'm bored" (though I'm not always complaining, I promise!). So, I'm pretty lucky that Hong Kong goes a long way to cure both. With it's eclectic food scene, and ever-buzzing streets, on an average Saturday, I can get my fill of Dim Sum in the morning, before setting off exploring neighboring islands or hiking for the day, and still have time for a drink at one of my favourite bars come nightfall. For always keeping me entertained (and full!), I could not be happier to call Hong Kong my home.
TANIA SHROFF
EDITOR
I joined Team Sassy to rediscover the city I call home (one G&T at a time). With a focus on heading up the Style, Beauty, Influencers, Weddings, Travel, Health & Wellness sections, my time is spent typing up the latest style hacks, wellness trends and travel tips. When I'm not writing, you can find me getting involved in worthwhile causes, attempting to find peace through yoga poses, or eating abnormal amounts of dessert.
What I love about Hong Kong
There's no denying it, the overflowing local markets and decadent dim sum keep this city filled to the brim. My favourite thing about Hong Kong is the sheer amount of diversity – from the culture, to the activities, to the people. It means we have the potential to make this place exactly what we want. What more could we ask for?
SURMAYEE TETARBE
PARTNERSHIPS MANAGER
I'm a through and through third culture kid - being born in India, brought up in Hong Kong and educated in California, I've absorbed a little bit of all my homes into my identity (and my accent)! I adore books, podcasts and really, really bad reality TV and I can talk dance for hours on end. You'll find me tucked away into a hipster coffee shop with my Kindle or sweating it out in studio on any given weekend, and you bet I'll be Instagramming my experiences too - pics or it didn't happen, am I right? I also believe that life is too short to not treat yo'self all the time, which is what I remind myself as I snack on all the sweet treats in the office. I focus on partnerships with travel, health & fitness, home & lifestyle, weddings and events clients.
What I love about Hong Kong
The sheer number of things to do and discover in Hong Kong continues to amaze me, despite the fact that I've lived here for over 15 years! Whoever you are, this city has something to offer you and it will change you for the better. I love that you can experience the bustle of city life but also get away and peacefully connect with nature for a break - as Hannah Montana so eloquently put it, it truly is the best of both worlds.
ELLE NOBLE
PARTNERSHIPS MANAGER
Elle is originally from the UK and landed in Hong Kong at the end of a year-long trip around the world. With a background in fashion styling and a love for fashion, travel and music, you'll often find her dragging friends around vintage boutiques (adding to her never ending wardrobe), or getting crafty in Sham Shui Po, customising outfits for festivals and themed junk boat parties (she's a pro with a glue gun!). Elle focuses on partnerships with eat & drink and beauty & fashion clients.
MANSHA CHANNA
PARTNERSHIPS MANAGER
I was born and raised in Hong Kong and worked in Banking and Finance before finding my way to Sassy. Having lived all over the world, I definitely caught the travel bug and am constantly attempting to cross cities off my bucket list. A true foodie at heart, you will always find me at the newest spots in town. I love a good workout and spending quality time with my husband and two young sons. I focus on corporate partnerships for Sassy.
Daisy Dudley
ART DIRECTOR
Daisy is a Brighton (UK) born art director who enjoys playful typography and pleasing colour combinations. When not bringing the graphics and photography of Sassy to life she enjoys exploring the stunning nature of Hong Kong and finding new spots to eat (veggie) ramen and drink gin-based cocktails.
Sabrina Sikora
ADMINISTRATIVE ASSISTANT
Sabrina Sikora grew up on sets and on the runway! From the tender age of 14, Sabrina launched her modeling career, transitioning in 2004 to work behind the lens. She now works full-time as a fashion, family, and portrait photographer and is the Founder of First Wife Studios. Armed with a big camera, bigger heels and an armful of accessories, Sabrina is ready to get the scoop on all things Sassy!
What I love about Hong Kong
How easy it is to travel to nearby countries, hiking trails and the theme parks!
Novella Lui
Novella is a Registered Dietitian in Canada who focuses her dietetic practice on family nutrition and women's health. Born in Hong Kong and raised in Vancouver, Novella enjoys keeping up with the latest food and health trends and shares her passion for food and cooking with others. Aside from being a bilingual nutrition and health writer, Novella is a self-proclaimed foodie who travels around the world seeking out new flavours and different cuisines. When she is not travelling, you can find her looking for delicious foods in the neighborhoods of Hong Kong, Vancouver and Toronto.
Carrie Johnson
Always looking for her next adventure, Carrie has true wanderlust and is on a mission to see as many Countries as possible. A huge fan of the great outdoors she is always up for a challenge and loves trying new and exciting things. You'll often find her working out in one of the local parks (she also runs November Project in HK - a free fitness movement) or hanging upside down from a hoop.