Much more than a sleepy residential town, Sha Tin offers a wealth of culture and history. From walled villages to dai pai dongs, we've rounded up some of our favourites in this part of the city!
Sha Tin might be known for being a residential suburb, but it covers a vast area with many hidden gems and plenty of things to do. It might not be as exciting as some of the urban powerhouses in the city, but it's got a lot of heritage and history tucked away in its old villages and industrial buildings. Whether you're a resident or a visitor, this guide will help you hunt for those historical relics hidden in the rural villages and dig out some of the best roasted pigeon in Hong Kong. Why don't we take a quick tour around the neighbourhood? Here are some of our favourites in Sha Tin!
Jump to:
Where To Eat & Drink
Where To Shop
Places To Go & Things To Do
Where To Eat & Drink:
This world-renowned restaurant has locations all over the globe and four in the 852. Known for its skill with xiao long bao, Din Tai Fung never fails to impress with its consistent and reliable quality. It ticks all the boxes for great xiao long bao – thin flour shells, a burst of hot soup and a good bite of pork. You can even watch the chefs make them as you wait in queue! Best of all, it's affordable. Make sure to try the Drunken Chicken to mix things up!
Din Tai Fung, Shop 166, Level 1, New Town Plaza (Phase I), Sha Tin, Hong Kong, www.dintaifung.com.hk
This New York creperie came to global recognition with its signature Mille Crepes, mouthwatering cakes made of layers and layers of crepes stacked on top of each other. It's opened a few boutiques around Hong Kong, and one of them sits square in the centre of New Town Plaza's luxury brands section. Craving cake after a shopping spree? Head over to Lady M.
Lady M, Shop 309A, Level 3, New Town Plaza (Phase I), Sha Tin, Hong Kong, www.ladymhk.com
Perhaps you've found yourself in Sha Tin and now you're peckish for dim sum. Lei Garden has a reputation for quality that's even been picked up by the Michelin guide. With a Michelin Plate under its belt, Lei Garden serves up all the traditional Cantonese eats for your culinary pleasure. It leans towards the pricier side, but we still think it's worth it!
Lei Garden, Shop 628 & 631, New Town Plaza (Phase I), Sha Tin, Hong Kong, www.leigarden.hk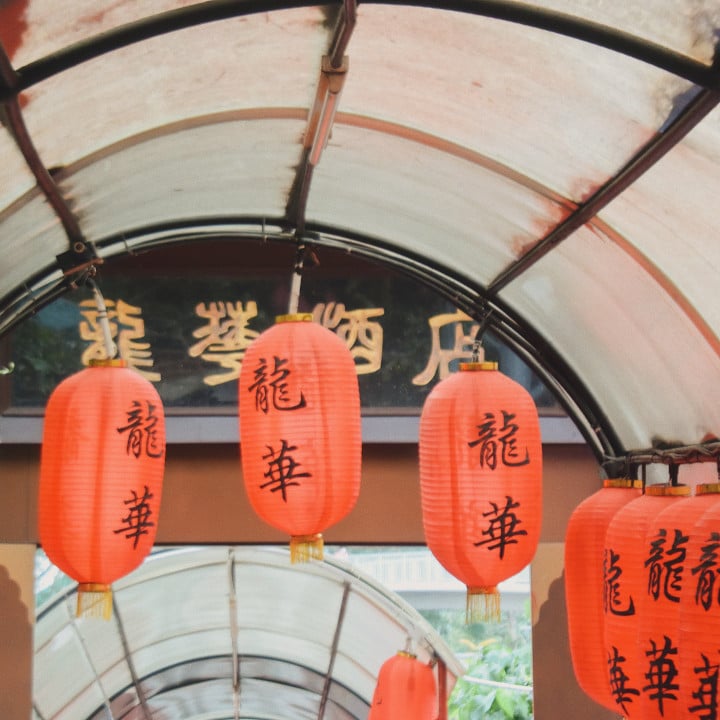 Lung Wah has been around since the '50s and has something of a celebrity history. It was once frequented by movie stars and politicians who flocked to the hotel to feast on roasted pigeon. Back in the day, rural Sha Tin was a hub for farming pigeons – and roasting them! Lung Wah is only a restaurant now, but it has maintained its traditional decor – with red gates, checkered tablecloths and rows upon rows of lanterns. Definitely visit for a throwback to Hong Kong in the '50s and that excellent roasted pigeon.
Lung Wah Hotel, No. 22 Ha Wo Che Village, Sha Tin, Hong Kong, www.lungwahhotel.hk
Tai Yuen Dai Pai Dong
We've all heard the news that Dai Pai Dongs in Hong Kong have been disappearing at an alarming rate. But in the New Territories, Dai Pai Dongs still thrive. Come evening, it's common to see crowds of people lining up outside the Fo Tan Shan Mei Street bus terminus – but not for the bus! They're all lining up to eat at Tai Yuen. Tai Yuen is also known for its roasted pigeons and chicken congee, but you can have any family-style meal there for very low prices, and you won't be disappointed.
Tai Yuen Dai Pai Dong, Fo Tan Cooked Food Market, Shan Mei Street, Fo Tan, Hong Kong
This one's a favourite among the local residents of Fo Tan. Tucked into the side of an industrial building, Golden Cuisine is always crowded until late at night, and for good reason. It serves up fantastic barbecued meats, with tender, honeyed Char Siu being its crowning glory. Don't forget to check out its dinner discounts for the best deals!
Golden Cuisine, Shop C, G/F, Valiant Industrial Centre, 2-12 Au Pui Wan Street, Fo Tan, Hong Kong, www.facebook.com/GoldenCuisineHK
Shing Kee Noodles
Tucked away in a local housing estate, Shing Kee has been a local favourite in Lek Yuen since the '50s. Decked out with kitschy art, books and red lanterns, it's a great place to sit down for hot pot with friends.  But of course, it's best known for its noodles. It even serves free meals to the elderly once a month. A true community staple, there really isn't a more iconic noodle shop in Sha Tin.
Shing Kee Noodles, Shop 5, Lek Yuen Estate Market, Sha Tin, Hong Kong
Fo Tan was once a booming industrial centre in its heyday and has remained a largely industrial neighbourhood even now. But with manufacturers moving out of Hong Kong, independent artists and business owners have settled into these abandoned factory spaces, opening galleries, art studios and, of course, coffee shops! Out Of Cafe is one such coffee shop. Nestled in an industrial building, it serves up excellent coffee and Insta-worthy desserts in a sleek, quirky atmosphere.
Out Of Café, Shop 1215, Wah Yiu Industrial Centre, 30-32 Au Pui Wan Street, Fo Tan, Hong Kong, www.facebook.com/outofcafe
Head to Beans the Greenhouse for coffee, cake and a good time! Next to Sha Tin's massive IKEA, it's a great place to wind down after spending a long day shopping for furniture. Beans also makes an excellent lunch option, serving up a wide selection of Western fare. From pasta to a full English brekkie, and unconventional desserts to 3D latte art, Beans is one of the coolest spots in town.
Beans The Greenhouse, Shop 503, 5/F, Grand Central Plaza (Home Square), 138 Sha Tin Rural Committee Road, Sha Tin, Hong Kong, www.beansgroup.hk
Hyatt Regency's Sha Tin 18 serves up full-on luxury and high-end gastronomy. It's especially well-known for its Dongguan delicacies and Northern Chinese cuisine. But it also reinvents local classics, with barbecued pork flambéed in rose wine, or keeps dishes traditional, with its Peking duck. If you're not tempted yet, wait until you see the dessert menu. With longan brownies and pomelo creme brulees, it offers the best of fusion cuisine in a dessert-sized package.
Sha Tin 18, 4/F, Hyatt Regency Hong Kong, 18 Chak Cheung Street, Sha Tin, Hong Kong, www.hyatt.com
Where To Shop:
New Town Plaza is Sha Tin's centrepiece. It's got almost everything you can think of. From affordable fashion to global designer brands, it allocates different floors and sections to luxury brands, athletic goods, shoes, makeup, electronics and more. If you're looking for international groceries, Citysuper and YATA have you sorted. If you're peckish after a long day of shopping, it boasts a wide range of dining options. Better yet, if you're looking for independent and inexpensive local boutiques, you can easily pop over to Shatin Plaza, Lucky Plaza and Citylink Plaza, all connected to New Town Plaza via short footbridges.
New Town Plaza, Sha Tin Centre Street, Sha Tin, Hong Kong, www.newtownplaza.com.hk
Just moved house, or looking to brighten up your flat? Homesquare (is just a short walk from the MTR and New Town Plaza) is a mall filled with stores to help you furnish and decorate your home. From Francfranc to Indigo Living to IKEA, Homesquare offers anything and everything you need to make your home the most homely it can be. If your curtains aren't blocking out the morning sun, head to Curtain City for a variety of fabrics and shades. If your mattress is letting you down, head to Simmons for guaranteed quality sleep.
HomeSquare, 138 Sha Tin Rural Committee Road, Sha Tin, Hong Kong, www.homesquare.com.hk
Wo Che Market
For the freshest ingredients, Wo Che is the place to go. Getting your produce and proteins at a local wet market may seem daunting, but the recently revitalised Wo Che Market offers ultra-fresh ingredients in a space designed for a less stressful shopping experience. From seafood vendors to produce straight from the farm, this is where locals get their groceries.
Wo Che Market, 3 Tak Hau Street, Sha Tin, Hong Kong
Industrial buildings in Fo Tan don't only house indie cafés – they're also home to a myriad of artisan studios. Snowpeace builds custom-made guitars and ukuleles, instruments tailored to you and your needs. It also offers repair services and refurbishes second-hand guitars, so if you're looking for a quality guitar at a reasonable price, keep an eye on its wares. Who knows, you may just find the perfect guitar for you.
Snowpeace Guitars, Room C, 6/F, Haribest Industrial Building, Fo Tan, Hong Kong, www.facebook.com/SnowpeaceGuitars
Places To Go And Things To Do:
Perhaps one of the most underrated museums in the city, the Heritage Museum curates exhibitions in art, literature, history and popular culture. Keen to learn more about Hong Kong's history and heritage? At the Heritage Museum, you can immerse yourself in local art traditions, peek into the lives of iconic Hong Kong movie stars and get a closer look at extravagant Cantonese opera costumes. It offers a deeper look into Hong Kong as a city and a cultural hub, beyond malls and skyscrapers. The 852 is incredibly rich with cultural heritage, so you won't want to miss this. Better yet, admission is free.
Hong Kong Heritage Museum, 1 Man Lam Road, Sha Tin, Hong Kong, www.heritagemuseum.gov.hk
Penfold Park is a beautiful public space tucked inside the Jockey Club's race tracks with lakes, sculptures and endless greenery. Well maintained and spacious, it is the perfect place to spend a weekend afternoon. Bring a bottle of wine, a book and a picnic blanket, and you're all set!
Penfold Park, Sha Tin Racecourse, Sha Tin, Hong Kong, www.hkjc.com
War Relics Trail
Hiker, history buff or both? The MacLehose Trail features sections that were once battlegrounds or strategic points during World War II. One of these passages stretches through Ma On Shan, all the way to Beacon Hill. It's a fantastic day hike for everyone and not too challenging. But it's also fascinating and rich with wartime installations, constructed by British soldiers before the Japanese occupation of Hong Kong. Many of the caves, trenches and pillboxes that soldiers used still exist as ruins, there for hikers to behold. Call up some friends to go hiking and see how many war relics you can spot!
War Relics Trail, Section 5 MacLehose Trail, Lion Rock Country Park, Sha Tin, Hong Kong
Ten Thousand Buddhas Monastery
As its name suggests, the Monastery boasts an impressive number of Buddha statues (over twelve thousand!) sheltered by pavilions, watching from each level of the pagoda and lining the walkway. It is an incredible place of worship, majestic as much as spiritual. But it is also significant to the history and development of the Buddhist faith in Hong Kong. For devout Buddhists or the spiritually curious, the Ten Thousand Buddhas Monastery might just be the perfect place to go.
Ten Thousand Buddhas Monastery, No. 221, Pai Tau Village, Sha Tin, Hong Kong, www.10kbuddhas.org/index.do
Amah Rock
If you love hiking and local mythology, the hike up to Amah Rock ticks all the boxes. Legend has it that the rock was once the wife of a sailor who drowned at sea. Not knowing this, she kept returning to the hilltop day after day, carrying her child on her back, on the lookout for her husband's return. Impressed by her loyalty, the gods turned her into Amah Rock so she could look out for her husband forevermore. The origin of the story may be tragic, but the hike itself isn't difficult, and the view is spectacular. With Amah, you can look over all of Sha Tin, and perhaps you'll even find a lost love.
Amah Rock, Hung Mui Kuk Catchment Area, Lion Rock Country Park, Sha Tin, Hong Kong
Che Kung Temple
Tai Wai doesn't only house families and local eateries, it's also home to the Song Dynasty commander (Che Kung), who helped the last emperor of the Southern Song Dynasty escape to present-day Sai Kung. His achievements elevated him to the level of deity and his statue now sits in the Temple, looming over worshippers. In folk mythology, he suppresses plagues and grants good fortune. So if you're feeling a winter cold coming on, Che Kung Temple could be worth a visit.
Che Kung Temple, 7 Che Kung Miu Road, Tai Wai, Hong Kong
Chik Chuen Wai (Tai Wai Village)
As a residential district, Sha Tin has been able to maintain a few of its old villages and preserve the heritage lost in Hong Kong's urban bustle. The oldest walled village in the district, Chik Chuen Wai, comes complete with more than 400 years of history. Although most of the original village is now gone, the entrance gates and a few ancestral homes still stand. It's a fascinating peek into Hong Kong history and the lives of local residents in the past.
Chik Chuen Wai, Chik Chuen Street, Tai Wai, Hong Kong
Tsang Tai Uk (Shan Ha Wai)
One of the better preserved Hakka villages in the district, Tsang Tai Uk still houses local families to this day. Declared a Grade I historic building in 2009, the village escaped relocation and reclamation because of its cultural legacy. It has retained its original, unique architecture from the late 1800s and everyday artefacts from the past, pre-digital age. Although it was built by Tsang Koon-man for the Tsang clan, it also sheltered displaced families during World War II. Visitors can enter the ancestral hall and the first courtyard to explore the folk charm of old-time local Hong Kong. However, Tsang Tai Uk is still a living village, so do be mindful of disturbing the residents.
Tsang Tai Uk, near Pok Hong Estate, Sha Kok Street, Sha Tin, Hong Kong
Old House, Wong Uk Village
Wong Uk village was once a crucial trading hub for travellers passing through Hong Kong in 1700s. Its importance among travellers has faded, but it remains a valuable piece of local heritage. While most of the original buildings have been demolished, the Old House has been an indispensable mainstay of the village. A clan descendant constructed the Old House in 1911, and it was declared a historical monument in recent decades. It has preserved its traditional architecture and decor, with intricate murals lining the walls. It's a must-visit for local culture enthusiasts!
Wong Uk Village, Yuen Chau Kok, Sha Tin, Hong Kong

Sha Tin Park
This park lies bang in the centre of Sha Tin next to the Shing Mun river, and offers something for everyone- from artists to fitness enthusiasts to amateur botanists. It boasts over 400 species of plants across several themed gardens. Different trees flower at different times of the year, so there will always be blossoms for you to enjoy. If you time your visit right, perhaps you'll be able to see the bauhinias bloom this autumn! Need to wind down after a long week? The pavilion is a lovely place to sit, relax and read, accompanied by the natural soundtrack of the waterfall.
Sha Tin Park, 2 Yuen Wo Road, Sha Tin, Hong Kong
Cycling along the Shing Mun River
Hong Kong isn't known to be a bike-friendly city, but Sha Tin defies all the odds as a cyclist's haven. With protected bike paths all along the Shing Mun river, you won't have to dodge traffic on the streets. The path stretches from Tai Wai to Wu Kai Sha via the Ma On Shan Promenade, following the coastline throughout. It's an incredibly scenic, easy ride, and it's perfect for families and beginners, fun dates and groups of friends. There's also another route that follows the Shing Mun River but goes up to Tai Mei Tuk instead. It passes through the Hong Kong Science Park and ends near the Plover Cove Reservoir. As a sparsely-populated area, Tai Mei Tuk has retained its old fishing village charm. It's a beautiful place to cycle to and spend an afternoon, surrounded by rolling hills and a vast expanse of water. This trail is a must-try for any cycling enthusiast in Hong Kong, amateur or otherwise. You can rent bikes at Tai Wai or Sha Tin, near the MTR stations, and start cycling! Whether your destination is Wu Kai Sha or Tai Mei Tuk, just get those wheels on the road!
Featured image courtesy of Getty, image 1 courtesy of Lady M via Facebook, image 2 courtesy of Lei Garden via Facebook, image 3 courtesy of Hiu Yan Chelsia Choi via Unsplash, image 4 courtesy of Golden Cuisine via Facebook, image 5 courtesy of Out of Cafe via Facebook, image 6 courtesy of Beans The Greenhouse, image 7 courtesy of Sha Tin 18 via Facebook, image 8 courtesy of HomeSquare via Facebook, image 9 courtesy of Snowpeace Guitars via Facebook, image 10 courtesy of Rebecca Cairns via Unsplash, image 11 courtesy of AFCD, image 12 courtesy of Chinese Temples Committee, image 13 courtesy of LCSD.