Shopping local for all your fashion needs is a great way to support the community around you. To help get started, here's our ultimate list of homegrown and local Hong Kong brands that we're loving right now.  
Choosing to buy local comes with a domino effect: once we open our eyes to all of the Hong Kong brands on offer, we save on those exorbitant shipping fees, reduce our carbon footprint and support brilliant local talent (the big names don't really need our help!). These local Hong Kong brands will help you develop a truly personal style with a range of minimalist everyday wear, classic pieces, investment accessories and cutting-edge fashion that make a statement. On your marks, get set, shop!
Read More: Top Fashion Websites With Free Delivery To Hong Kong
---
Ground Zero
A local brand with international appeal. Ground Zero's on-trend streetwear oozes 90s vibes, and the baggy sweatshirts will make anyone look effortlessly cool. It's definitely a brand for those who make trends instead of following them.
Ground Zero, stocked at Lane Crawford, www.groundzeroclothing.com
---
Cynthia & Xiao
Helmed by two designers, one from Hong Kong and the other from Beijing, Cynthia & Xiao brings together luxe knitwear and quality tees with bold, eye-catching designs and patterns. Definitely one to keep in mind for when you want to make a style statement!
Cynthia & Xiao, www.cynthiaandxiao.com
---
VICTORIA
Founded in 2015, streetwear brand VICTORIA draws inspiration from Hong Kong's juxtaposition of old/new and East/West by incorporating traditional local elements and reinterpreting them in a new and contemporary way. Deeply rooted in skateboarding, music and art, VICTORIA carries a range of graphic tees, sweats, hats and more.
VICTORIA, stocked at various locations across Hong Kong, victoriahongkong.com
---
Soie
Designed in Hong Kong and handmade in Vietnam, Soie's collection is sultry, sleek, and ultra-flattering. We love the classic slip dresses in particular, which can be styled up with heels for a party or dressed down with layers and sneakers for a casual brunch.
Soie, www.soiehk.com
---
Tove & Libra
Effortless daily chic is yours for the taking, thanks to homegrown brand Tove & Libra. Inspired by the minimalist Scandi aesthetic, the brand brings together style and sustainability for versatile clothing that will take you from work to the weekend. We love the brand's commitment to upcycling deadstock fabrics, as well as the introduction of carbon offsetting for all online orders. Balancing form and function, many pieces have been designed for multi-way dressing, allowing us to do more with less! Visit its boutique shop at PMQ or shop online and enjoy free shipping!
Tove & Libra, S205, Block A, PMQ, 35 Aberdeen Street, Central, Hong Kong, 9662 9923, www.toveandlibra.com
---
Basics for Basics
Basic pieces that have integrity: that's what you'll find at Basics for Basics, the ethical fashion brand founded by Kayla Wong. Think effortless tees, cosy sweatshirts, dresses and more, all of which are durable and comfortable. Striving to build style in conjunction with nature, the team are dedicated to finding ways to reduce their carbon footprint.
Basics for Basics, www.basicsforbasics.co
Read More: 15 Local Sustainable Fashion Brands We Love
---
SAU LEE
Party dresses, chic separates and evening gowns abound at SAU LEE. Expect fashion-forward yet timeless pieces that are designed to be worn season after season. Founder Cheryl is inspired by the East meets West philosophy and brings the two aesthetics together, with a hefty dose of flirty femininity.
Sau Lee, www.sau-lee.com
Read More: Where To Buy Party Dresses In Hong Kong
---
Sempimimi
Offering a range of eclectic statement jewellery pieces at wallet-friendly prices (ranging between $300 and $800), Sempimimi is on a mission to bring a touch of glamour to your every day. Head here for colourful handmade rings, necklaces, earrings and cuffs.
Sempimimi, www.sempimimi.com
---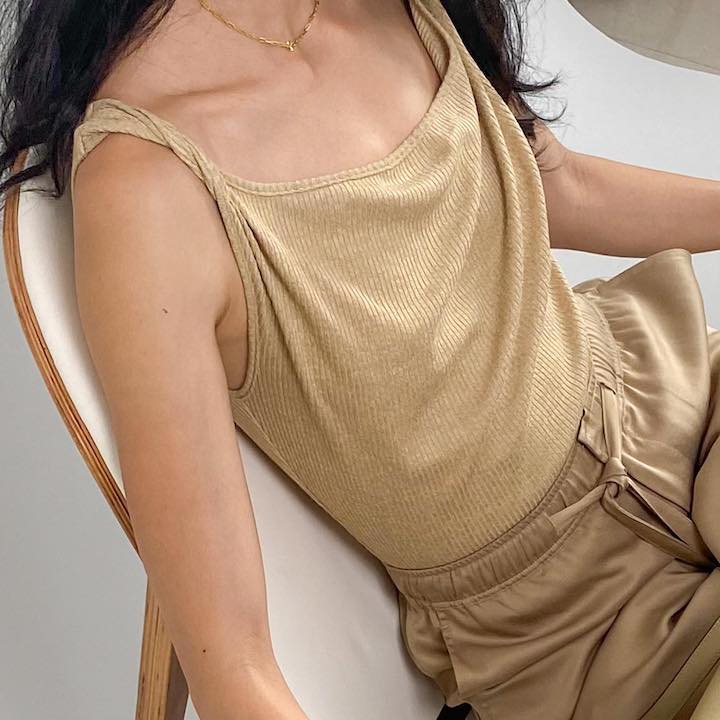 Róu So
"Róu" in Chinese means softly, characterising this Hong Kong brand's mindset of making its effortless everyday fashion hits with care and love. The team here take a view towards mindful production, minimising its carbon footprint by using only natural, recycled or plant-based fabrics which have been salvaged from over-produced inventory and trim waste from vendors, manufacturers and fabric mills.
Róu So, rousoshop.com
---
Rii Swim
Founded by influencer Ellie Furuya, Rii Swim brings us the "Little Black Dress" of swimwear with effortlessly chic swimsuits that are every bit as sustainable as they are stylish. Made of a regenerated nylon called Econyl®, these swimsuits are resistant to chlorine, sunscreens and oils, and piling — plus they're a dream to wear thanks to the buttery soft finish!
Rii Swim, riiswim.com
Read More: Where To Buy Swimwear In Hong Kong
---
PYE
Helmed by Dee Poon (the daughter of Harvey Nichols owner Dickson Poon and Esquel Group chairman Marjorie Yang), dress shirt specialist PYE brings us timeless formal attire with a sustainable seed-to-shirt philosophy at its core.
PYE (Admiralty), Shop 111, Pacific Place, Admiralty, Hong Kong, 2152 9288
PYE (Central), Shops 19 & 22, Central Building, Central, Hong Kong, 2152 9168, pyeshirts.com
---
Good Days
Good Days is a fantastic brand to have on your radar when you're in need of beautiful yet functional high-performance activewear. Sustainability is front and centre, with every piece made from recycled plastic waste.
Good Days, gooddaysactivewear.com
Read More: Where To Buy Athleisure In Hong Kong
---
Harrison Wong
Hong Kong-born and bred, Harrison Wong designs modern, wearable looks for men. His collections are known for having simple yet structured silhouettes, blurring the line between hipster streetwear and uptown tailoring.
Harrison Wong, various locations across Hong Kong, harrisonwong.com
---
Parallel 51
Local Hong Kong brand Parallel 51 brings us versatile, stylish and affordable pieces that work well both in and out of the office. Every item of the mix-and-match capsule collection is designed to complement each other for effortless styling, making it that bit easier to navigate early mornings.
Parallel 51, parallel51.co
---
YanYan
Local premium knitwear brand is founded by Hong Kong designer Suzzie Chung and former Rag & Bone Director of Knitwear Phyllis Chan, who share their playful sense of style through thoughtful designs. The knitted garments are inspired by their lives in Hong Kong and New York, combining modern and traditional elements in a whimsical fashion.
YanYan, stocked at JOYCE, Shop 3205-7, Level 3, Gateway Arcade, Harbour City, Tsim Sha Tsui, Kowloon, Hong Kong, yanyanknits.com
---
The R Collective
Brought to us from local environmental charity Redress, The R Collective is a sustainable fashion label that creates new womenswear pieces with rescued textile. With a mission to rescue, reuse and reimagine, the brand is known to offer high-quality fashion collaborations with award-winning designers from all over the world.
The R Collective, stocked at Lane Crawford, thercollective.com
Read More: Local Sustainable Fashion Brands We Love
---
Qipology

Whether you're looking for a chic qipao for your wedding day or a trendy two-piece for an evening cocktail party, Qipology is here to offer a modern take on tradition. There are a range of prints, cuttings and styles to choose from, but if you're looking for something one-of-a-kind, opt for one of the custom-made pieces.
Qipology, H310, Block B, PMQ, 35 Aberdeen Street, Central, Hong Kong, www.qipology.com
Read More: Where To Buy Your Wedding Dress In Hong Kong
---
b/major
From ankle boots to mules, flats and more, local Hong Kong brand b/major delights with quality leather footwear offerings. Each design is made in small batches out of independent workshops across the city. Head here for simply chic classics that will stand the test of time.
b/major, various locations across Hong Kong, bmajorshoes.com
Read More: Where To Buy Shoes In Hong Kong
---
Rising Lotus
After spending time in California, designer Vivien So came back to Hong Kong and saw the need for quality athleisure. Cue Rising Lotus – a local athleisure brand which prioritises quality, long-lasting garments over fast fashion trends. Rising Lotus is known for its comfortable, casual designs with breathable, moisture-wicking materials.
Rising Lotus, www.risinglotusclothing.com
---
ANORAK
This online brand aims to disrupt the over-priced leather market by providing high-quality products at fantastic price points. Make sure to add a personal touch courtesy of ANORAK's thoughtful, no-fuss embossing service.
ANORAK, www.anorakco.com
---
2°EAST
Affordable, stylish and sustainable, homegrown watch brand 2°EAST ticks all the boxes, and then some. Here, luxury specs meet eco-friendly materials (think sapphire crystal, buttery soft vegetable leather and recycled PET bottles) to create expertly crafted watches that not only look good, but do good too.
2°EAST, 2degreeseast.com
Read More: Where To Buy Plastic-Free Essentials In Hong Kong
---
Black Coral xo
Founded and based in Hong Kong, but inspired by the world, Black Coral is an online boutique offering effortlessly feminine, sexy and fun women's clothing and accessories – all at great prices! Perfect for filling up your off-duty wardrobe, we love the collection of playful print dresses, playsuits, separates and swimwear.
Black Coral, stocked at Bohème, G/F, 74A Hollywood Road, Central, Hong Kong, www.blackcoralxo.com
Read More: 2023 Sassy Hong Kong Reader Award Winners!
---
LANE EIGHT
Co-founded by brothers Josh and James Shorrock, Hong Kong trainer brand LANE EIGHT combines functionality with style to create footwear that can take you from the gym to work, to a night out on the town. Available in a range of fun colours, we love that the shoes are made with recycled and natural materials to boost performance and reduce its carbon footprint.
LANE EIGHT, various locations across Hong Kong, laneeight.hk
---
Freis Spirit
A revival of the iconic 80's brand Diane Freis, here you'll find vintage cocktail dresses sourced directly from Diane's personal archives, all in new vintage condition. Perfect for when you want to play dress up.
Freis Spirit, freisspirithk.com
---
EARTH.er
This sustainable fashion brand was founded in 2012 in Hong Kong's very own Tai O fishing village. Founder and designer, Benny Yuen, creates designs that are inspired by the outdoors using traditional Southeast Asian craft techniques. Think hemp backpacks and a line of 'Down to EARTH.er' shoes, made by upcycling rubber tires.
EARTH.er, G/F, 83 Kat Hing Street, Tai O, Lantau Island, New Territories, Hong Kong, www.earthertaio.com
Read More: Your Guide To Tai O Fishing Village
---
The Korner
Homegrown brand The Korner's footwear collection is soft and feminine, with a nice mix of classic and stylish flats, loafers, heels, sandals and more in neutral, flattering colours – perfect for everyday wear.
The Korner, various locations across Hong Kong, thekornershoes.com
---
Fashion Corner Plus
Fashion Corner Plus, is out to prove that you can be stylish no matter what shape or size you are. Tailored specifically to plus size body shapes, sizes here range from M to 8XL. Quality is assured, with every item designed and stitched by founder Makayla and her team in the brand's Hong Kong factory.
Fashion Corner Plus, Room 216, 2/F, Yick Tai Building, 650-652 Castle Peak Road, Cheung Sha Wan, Hong Kong, 9017 0309, fashioncornerplus.com
---
Emma Wallace
Emma Wallace's womenswear brand is homegrown, paying homage to Hong Kong and the wider Asian region's patterns and prints (perfect for mixing and matching!). For a little indulgence, look to the Emma Silk collection, with pajamas, dressing gowns and nighties in printed silks.
Emma Wallace, G/F, Po Hing Mansion, 2 Po Hing Fong, Tai Ping Shan, Sheung Wan, Hong Kong, 2336 6798, emma-wallace.com
Read More: Where To Buy Bed Linen In Hong Kong – Bed Sheets, Bedding Sets & More
---
FREY.
Leave it to the experienced hands of FREY. to fill your wardrobe with impeccably tailored sustainable pieces made with natural materials sourced from dead stock (think smart suits, chic day dresses and comfortable knitwear).
FREY., G04, 9 Queens Road, Central, Hong Kong, 9172 0701, www.frey-tailored.com
---
Aleshia
Hong Kong-based online fashion site Aleshia was started in 2017 by two friends who wanted to bring quality yet affordable fashion to girls all over the world. The brand offers everything from pretty dresses and tops, to jumpsuits, skirts and more – all with a distinctly feminine twist.
Aleshia, www.myaleshia.com
---
KIBO
Meaning "hope" in Japanese, KIBO is on a mission to repurpose discarded materials in the name of fashion, giving waste a new hope. Best know for its recycled leather and canvas trainers, this local Hong Kong brand also carries biodegradable shades.
KIBO, stocked at various locations across Hong Kong, kibo.eco
---
Rabeanco
Rabeanco started in Hong Kong and has now expanded to a worldwide empire! This local brand is a favourite among Hongkongers because it provides gorgeous leather goods at decent price points. From shoulder bags to clutches and backpacks, the bags here all are stylish and lightweight.
Rabeanco, hk.rabeanco.com
Read More: 10 Affordable & Underrated Handbags To Know
---
Aanya
A boho traveller's dream, browsing through Aanya's collection of flowing tops, rompers and jumpsuits is sure to give you major wanderlust. Its founder Ishita Desai is committed to creating consciously-sourced, sustainable products. Though designed in Hong Kong, all products are made in India, where Aanya is working to empower artisans and grassroot organisations.
Aanya, www.aanya.com.hk
---
Antonia Y. Jewelry
Hong Kong-born Antonia Yue is the founder and designer of her eponymous jewellery line, Antonia Y.. Made in Hong Kong and inspired by nature, the brand's handmade pieces are all carefully crafted using natural stones, ensuring each piece is unique.
Antonia Y. Jewelry, www.antoniayjewelry.com
Read More: Hong Kong Jewellery Shops – Online & Independent Designers And Stores
---
Heritage Refashioned
Created by Hong Kong designer Vincci Ching, Heritage Refashioned is all about giving traditional craftsmanship new life. Stocking a collection of handbags, accessories and kimonos made from upcycled vintage textiles from China, Japan and South East Asia, the brand pairs cultural history with colourful sustainable fashion.
Heritage Refashioned, stocked at various locations across Hong Kong, www.shop.refashion.hk
---
Annibody
In the market for some quality wardrobe staples? Annibody is the local Hong Kong brand to know. Head here for a selection of functional bodysuits, timeless dresses and simple co-ords, all of which are perfect for everyday styling. Each design is made to fit and hug your body comfortably, no matter your shape or size.
Annibody, annibody.com
---
Linva Tailor
If you're after a beautiful cheongsam or a one-of-a-kind souvenir from Hong Kong, make Linva Tailor your first port of call. Helmed by tailors Mr. and Mrs. Leung, this pick has stood the test of time (over 40 years!) thanks to its loyal clientele. Custom offerings take about two months to complete, but you can pick from the pre-made designs if you'd rather not wait.
Linva Tailor, G/F, 38 Cochrane Street, Central, Hong Kong, 2544 2456, www.facebook.com/linvatailor
Read More: The Best Tailors In Hong Kong
---
Tabla
Inspired by the beauty and magic of India, expect richly coloured kaftans, intricate embroidered tunics, shawls and more at luxury lifestyle brand Table. Founded by Hongkonger Tania Mohan, we love how the brand brings together contemporary silhouettes with time-honoured textile traditions.
Tabla, www.tablatm.com
Read More: 10 Questions With Tania Mohan, Founder Of Tabla
---
Anthea Cooper
Launched in Hong Kong in 2018, Anthea Cooper's timeless jewellery designs take inspiration from nature and the designer's Indian heritage. Using only sterling silver, rose gold, gold and semi-precious stones, quality is guaranteed.
Anthea Cooper, www.antheacooper.com
Read More: Where To Buy Fine Jewellery In Hong Kong – Diamonds, 18k Gold & More
---
Paper Shades
Founded by brother and sister duo, Madi and James Chu, Paper Shades is a Hong Kong brand bringing us eco-friendly, customisable sunglasses made from recycled paper. The sustainable product is built to be functional and durable, along with the added bonus of a minimal carbon footprint and UV400 protection lenses!
Paper Shades, www.papershades.net
Read More: 10 Sunglasses To Shop In Hong Kong
---
FIERCE Studio
Make a statement at your next night out with one of FIERCE Studio's signature chain necklaces. Designed by Nicole Law and her mum, the chunky FIERCE chains come in an array of bold colourways such as "Tropical Storm", "Caribbean Sunrise" and "Hot Red Romance/Passion".
FIERCE Studio, www.fiercestudio.co
---
Zanteia
Voted the Best Brand Making Sustainability Waves in the 2023 Sassy Reader Awards, Zanteia is a fantastic site that brings together fashion-forward brands committed to sustainable and ethical practices. Find fabulous pieces from brands you can feel good wearing, including international labels and homegrown favourites like KRSV, Tove & Libra and more.
Zanteia, 5993 9136, www.zanteia.com
---
leatherlab
Based in Hong Kong, leatherlab started out as a family-owned shoe factory over 20 years ago — and the brand continues to focus on high-quality handmade leather shoes. Designs here are timeless but manage to incorporate on-trend elements via prints and textural accents.
leatherlab, various locations across Hong Kong, www.leatherlabshoes.com
---
KRSV
If you're working on building a capsule wardrobe, KRSV is an excellent place to start. Its stylish and sustainable tailored pieces will make dressing up in the morning a breeze, and take you seamlessly from the office to happy hour.
KRSV, 6538 9765, www.krsvhk.com
---
éclater jewellery
A Team Sassy favourite, Hong Kong independent brand éclater jewellery is known for its minimalist and unique jewellery designs. We love the cute ear cuffs, as well as the delicate rings featuring pearls and cubic zirconia.
éclater jewellery, eclaterjewellery.com
---
EDIT
Rediscover the joy of dressing up with contemporary womenswear label EDIT. Founded by lifelong friends Genevieve Chew and Jacqueline Chak, the brand offers wearable drama for a sense of occasion and fun. The pieces are minimal but romantic and, above all, designed to make you feel equal parts modern, feminine and confident.
EDIT, edit-thebrand.com
---
Ways Out Hong Kong
Way Out Hong Kong turns trash into treasure, upcycling household waste into beautiful jewellery pieces. The local initiative employs underprivileged women, empowering them to take control of their lives with craft skills and financial rewards. Plus, a part of the proceeds from sales goes to local charities like Mother's Choice and Feeding Hong Kong.
Ways Out Hong Kong, www.waysouthk.com
Read More: Where To Volunteer In Hong Kong
---
Femance
Hong Kong-based fashion label Femance was founded by Angel Tam and Celia Ng and offers gorgeous geometric leather handbags that will stand the test of time, much like their 10 year friendship.
Femance, www.femance-official.com
---
HAKA Active
Local eco-friendly activewear brand HAKA Active is a local fashion label that easily checks all of our boxes. Inspired by the beauty and nature of New Zealand, HAKA has everything from breathable (and cute!) leggings and sports bras, to yoga mats, towels and more.
HAKA Active, 5396 5050, www.hakaactive.com
Read More: 8 Yoga Mats To Shop Now
---
She Creates Stories
Breezy linen dresses, streamlined separates and boho prints, local brand She Creates Stories is a haven for coastal-inspired Australian fashion. As for the cherry on top, this pick is dedicated to inclusivity, so you'll find sizing here that spans the curve, petite and tall spectrum.
She Creates Stories, www.shecreatesstories.com
---
Main image courtesy of Cynthia & Xiao via Instagram, image 1 courtesy of Ground Zero via Instagram, image 2 courtesy of Rachel Loh via Tove & Libra, image 3 courtesy of Róu So via Instagram, image 4 courtesy of Parallel 51 via Instagram, image 5 courtesy of b/major via Instagram, image 6 courtesy of Black Coral xo via Instagram, image 7 courtesy of Fashion Corner Plus via Instagram, image 8 courtesy of Rabeanco via Instagram, image 9 courtesy of Annibody via Instagram, image 10 courtesy of FIERCE Studio, image 11 courtesy of EDIT via Instagram.