Let's face it ladies, you can't hog all the wedding shopping fun. We've made a list of the best groomswear boutiques in Hong Kong below and have everything covered from artisan pocket squares to bespoke Shanghainese tailoring. You and your man will definitely find something to keep the two of you happy on your wedding day with our guide for only the most fashionable Hong Kong grooms. Say goodbye to Prince Charming's stuffy tights and say hello to impeccable suits!
A Day With Poet
Not many people know about this edgy men's boutique, but stylish grooms definitely should. As you can probably tell from the name, the shop is all about vintage whimsy and definitely plays to the hipster crowd with stylish blazers and enamel cufflinks sure to have everyone asking where your groom bought them. As they say, the devil's in the details and A Day With Poet is absolutely on-point as far as that goes, even their pocket squares are exquisitely lace trimmed. Dapper gentlemen, this one's for you.
A Day With Poet, Shop 335, Rise Commercial Building, 5-11 Granville CT, Tsim Sha Tsui, Hong Kong, 3580 0110, www.adaywithpoet.com
Image sourced from Pinterest

A-Man Hing Cheong
A-Man Hing Cheong is the bespoke tailor of choice for fashion leaders in menswear such as GQ and their speedy services are definitely a godsend for couples working on a time constraint. With a single shop in the Mandarin Oriental (one of our favourite hotel wedding venues- see our roundup here!), A-Man Hing Cheong specialise in English shirts and suits and are more than happy to recreate designs of your man's choice. While it's recommended that you arrange an appointment, they will cater to drop-ins and you'll be able to choose from over a thousand swatches and real bone buttons to personalise your suit to your own liking. For a customised suit that looks like something off Saville Row, A-Man Hing Cheong's definitely your man.
A-Man Hing Cheong, M/F, Mandarin Oriental Hotel, 5 Connaught Road, Central, Hong Kong, 2522 3336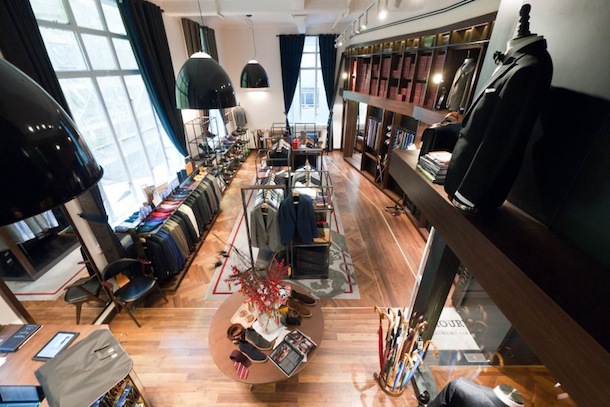 The Armoury
If your man doesn't have the time for suit fittings, The Armoury's ready-to-wear collection is amongst the best in Hong Kong. Featured on elite websites like Forbes, The Armoury's distinguished eye for tasteful menswear from all over the world has given them a definitive edge over their competitors. Their range of classic menswear is the product of time spent tirelessly combing the world for only the best brands, whether it be Italian artisans Liverano & Liverano or the Japanese virtuosos Ring Jacket. One of our favourite wedding make-up artists, Alexa Bui of Alexa Bui Make-Up, is married to the co-founder Alan Bui and one of Hong Kong's best bespoke tailors, W W Chan & Sons Tailor Ltd., actually holds his fittings here. If the Red Gang approves, it's got to be good.
The Armoury, 3/F, 307, Pedder Building, 12 Pedder Street, Central, Hong Kong, 2804 6991, www.thearmoury.com 
The Armoury, B47, Landmark Central, 15 Queen's Road Central, Central, Hong Kong, 2810 4990, www.thearmoury.com
Ascot Chang
"My customers select their own style. I give the style substance." Ascot Chang's immortal words completely encapsulate his company's ethos and his tailoring services are consistently the talk of the town, with admirers like The Wall Street Journal and GQ coveting his shirts and suits. If your man wants complete creative control, Ascot Chang is the way to go with over 3500 fabrics, 20 collar and cuff styles, 24 monogram styles and 30 monogram thread colours-we're getting dizzy trying to keep track of it all! They've thought of everything as well, offering ties, scarves, braces, socks and cufflinks so that your man can get everything he needs in the same place. They're also definitely the best place to go for grooms with little time; shirt and suit orders only take 1-2 weeks!
Bespoke service prices on request.
Ascot Chang, B520, Focal Industrial Centre, 21 Man Lok Street, Hung Hom, Kowloon, Hong Kong, 2364 4384, www.ascotchang.com
E-Rave Custom Shop
Why buy something you're only going to wear once when you can just rent it out? E-Rave Custom Shop offers wedding rental services for the groom priced at $2880 for four days and offer a range of suits, ranging from Chinese accented Western style suits, coat-tailed tuxedos and even high-end couture pieces. They can also create custom suits for grooms to own, including vests, bowties and cummerbunds, and are unique suit tailors in that they can alter each of their tuxes to match the bride's dress so that you both look fabulous standing side by side. If you decide to buy a wedding suit from E-Rave, you don't only have to wear it once-they can help you transform the tux into a business suit after the wedding free of charge so your husband can bring something sentimental with him to work.
Rental services cost $2880 for four days and custom-made suits are priced between $4880-$8380. Grooms can also buy/rent cummerbunds, vests and bowties at an additional price.
E-Rave Custom Shop, Shop 2B, Lobby Floor, The Bank of Asia Building, 10 Des Voeux Road, Central, Hong Kong; also has multiple locations listed here, 2295 0118, www.tuxedoerave.com
Era Ora
The pocket square is practically a staple for all grooms and the stylish brains at Era Ora do them like nobody else can. Their high quality pocket squares are nothing less than wearable art and their new collection is finally available in Hong Kong, so snap one up before someone else does! Each of their bold designs is influenced by international travel and are suitably named after their inspirations, perfect for the typical jet-setting Hong Kong groom. And ladies, don't worry about missing out, they now do silk scarves too just for you!
Sold at Visonaire, G/F, 26 Gough Street, Central, Hong Kong, 2745 6868
Showroom, Showroom A by Aroxta, 1/F, 26-28 Hollywood Road, Central, Hong Kong, 2810 1177, www.eraorashop.com
Hiras
Hiras puts their client in complete control of the tailoring process-a somewhat daunting task given their 3000 luxury fabric swatches from Italy and the UK. Each suit pattern is cut from scratch using their individual customer's measurements though this is pretty much old hat for this fifty four year old family-run business, they've been at it for about three generations! Whether your groom wants his entourage to have matching tuxedos or even wants something sneakily monogramed, you'll have the boys done and dashing in no time!
Custom-made tuxedos begin at $5185 and shirts at $690.
Hiras, 3/F, Austin Commercial Centre, 4 Austin Avenue, Kowloon, Hong Kong, 2366 9700, www.hiras.com
Kow Hoo
The savviest businessmen in Hong Kong are sure to know Kow Hoo by name; they're the oldest and most respected bespoke shoemakers on the island. They've been making shoes since 1928 in Shanghai and are one of the rare shoemakers that still create customised wooden shoe lasts for each individual customer, ensuring that every pair of shoes is crafted perfectly to your feet. With a range of leathers for the traditional calfskin groom or the bolder crocodile groom, your man will be sure to find a pair of brogues that will have him dancing you down the aisle.
By appointment only. Bespoke shoes begin at $10,000.
Kow Hoo, Shop 243, Prince's Building, 10 Chater Road, Central, Hong Kong, 2523 0489, www.kowhoo.com.hk
MODE
Don't know what you want yet? Let MODE's creative director, Eddie Tam, decide for you. As one of the most in-demand male image consultants in the business and a former male model, he knows better than anyone else how to make your man look good. It's absolutely no surprise MODE is a favourite with local celebrities and has consecutively won awards for the best wedding suit by wedding bibles like The Wedding Magazine and ESD Life. Each of their crisp and clean designs will have your groom effortlessly stylish on your wedding day.
MODE, 11/F, Everglory Centre, 1B Kimberley Street, Tsim Sha Tsui, Hong Kong, 2366 8284, www.modetuxedo.com
Moustache
Moustache is very much the trend-setting new kid on the block, making waves in publications like GQ China and the Louis Vuitton City Guide, and aim to reinterpret the traditional Hong Kong tailor shop. Borrowing from English and Italian tailoring, their on-trend menswear line designed and cut by co-founders Alex Daye and Ellis Reuger uses only high quality lightweight fabrics. They also offer bespoke services and all of their work is sent to the best tailors from the golden era of Shanghai tailoring for stitching, meaning that each piece is a cultural artifact in and of itself. With a shop full of quirks like the bust of their style icon Sun Yat Sen, Moustache is definitely the place for a little look for fashionable grooms.
By appointment only.
Moustache, 31 Aberdeen Street, Sheung Wan, Hong Kong, 2541 1955, www.moustachehongkong.com
Rashmi Custom Tailors
Has your groom seen his dream suit in a magazine? Bring it over to Rashmi Custom Tailors and they'll whip it right up for you with their incredible laser-precise tailoring. If you're a fan of luxury menswear brands Loro Piana, Scabel and Ermenegildo Zegna, then you're in luck-they use exactly the same luxurious fabric, meaning you're getting a designer look at a fraction of the price. They're probably one of the most convenient tailors on the list: orders can be made either via e-mail or over the telephone and their tailors can even come to your home or office if you can't make the trek over to Kowloon.
Rashmi Custom Tailors, 12/F, Suite A3, Burlington House (next to The One), 90-94 Nathan Road, Tsim Sha Tsui, Kowloon, Hong Kong, 2311 5362, www.rashmi.com
Sam's Tailor
Sam's Tailor's bespoke high quality tailoring services are famous near and far and you're now part of the large crowd that knows about him to! This not-so-little family business is tucked away in Tsim Sha Tsui and is also one of the first ports of call for international personalities like Bill Clinton, Kevin Spacey and even Bruno Mars on their visits to Hong Kong. They're ironically renowned for their discretion in dealing with clients from all walks of life, but it's their generations of experience creating beautiful tailored suits that do all the talking for them. For men who want to feel powerful on their wedding day, here's your chance to slip into Frank Underwood's threads for a little while.
Prices on request.
Sam's Tailor, G/F, K&L, Burlington Arcade, 90-94C Nathan Road, Tsim Sha Tsui, Kowloon, Hong Kong, 2367 9423, www.samstailor.com
TCNY
We've ranted and raved about Ascot Chang-now it's time to talk about his grandson and nephew's brand TCNY. Youth doesn't always guarantee innovation but it definitely does in this case; each of TCNY's pieces are urban chic interpretations of classical suit tailoring. Like their parent company Ascot Chang, their shirts are impeccable and they also offer a Made to Measure service to ensure you get exactly what you want. Not only can you choose to have a suit from their seasonal collections personalised, you can even have a suit custom-created within 3-6 weeks for a unique TCNY sartorial experience. A great choice for the last-minute groom!
TCNY, Shop B, 43-49 Wellington Street, Central, Hong Kong, 2259 5000, www.tcny.com.hk 
Ted Baker
This quirky Scottish retailer has been a constant favourite with trendsetters in the sartorial world for a little while now, which is impressive given that they refuse to conventionally advertise. You can tell a Ted Baker suit from a mile away, thanks to their dandy fabrics and cheeky detailing (never has paisley lining looked so good). For an off the rack suit your man will love to wear again and again, Ted Baker is definitely the home for fashion-forward grooms. Their quintessentially British suits are probably more suited for a more casual wedding, but don't let that stop you!
Ted Baker, Shop 146, 1/F, Pacific Place, 88 Queensway, Hong Kong, 2918 9609, www.tedbaker.com
W W Chan & Sons Tailor Ltd.
Your groom deserves only the best on your wedding day and it doesn't get any better than a bespoke suit by W W Chan, one of the first students from the original Shanghainese school of traditional tailoring. As part of the famed and much in demand Red Gang and favoured by menswear authorities like the Gentleman's Gazette, W W Chan has learned from the best tailors from all over the world and creates handmade suits that fit with laser-precision preferring hand-stitching to machine work to ensure you get the perfect and most comfortable fit for your man's body. Each of his rare suits are an absolute indulgence and your groom will be desperate to go back again and again… if he can get another appointment, that is.
Bespoke suits begin at $12,000.
W W Chan & Sons Tailor Ltd., Unit B, 8/F, Entertainment Building, 30 Queen's Road Central, Central, Hong Kong, 2366 9738, www.wwchan.com
Want to get in on the fun too, ladies? Check out our other wedding roundups for more tips on what the best names are in the Hong Kong marriage business.
Top image sourced from Pinterest