Sai Kung sure has some beautiful beaches, but topping the list has got to be Tai Long Wan! Take some time out from Hong Kong city life to explore the secluded strips of sand at Sai Wan and Ham Tin, hike to Sheung Luk stream or even pack the camping gear and stay the night.
As a territory made up of over 200 islands, our coastal regions rival some of the best in the world. And as one of the most popular spots for a day away from the city, Tai Long Wan is a must-visit. Translated as "Big Wave Bay" in Chinese (not to be confused with Big Wave Bay Beach near Shek O, on Hong Kong Island), Tai Long Wan is a secluded spot found on the east coast of the Sai Kung Peninsula and is made up of four beaches: Sai Wan, Ham Tin Wan, Tai Wan and Tung Wan. So, take some time out, sunbathe, surf, hike and even spend the night camping under the stars, with a little help from our guide to Tai Long Wan.
Read More: Hong Kong Day Trips To Fill Your Weekends With
Jump to:
How To Get To Tai Long Wan
What To Do At Tai Long Wan
What To Eat & Drink In Tai Long Wan
What to Take To Tai Long Wan
---
How To Get To Tai Long Wan
1. First get to Sai Kung town:
Take the MTR to Choi Hung (Kwun Tong Line), and head for Exit C1; then take the green minibus 1A to Sai Kung Town (about 40 minutes), or;
Take the MTR to Hang Hau (Tseung Kwan O line), and head to Exit B; then take green minibus 101M to Sai Kung Town, or;
Take the red minibus from Dundas Street in Mong Kok to Sai Kung Town directly (about 30 minutes)
2. Options to get from Sai Kung Town to Tai Long Wan:
Take minibus 29R to Sai Wan Pavilion in Sai Kung Country Park (roughly 20 minutes), or:
Take a taxi to Sai Wan Pavilion (roughly 20 minutes), or:
Take a speedboat to either Sai Wan beach or Ham Tin beach (about 30 minutes), which costs $120 to $150 per person
For a less-active option, you can opt to:
Take a taxi from wherever you are on Hong Kong Island or Kowloon, and get dropped off directly at Sai Wan Pavilion (you'll find it easier to pick up taxis willing to drive this distance by finding Kowloon taxi ranks). Make sure to have plenty of cash with you as a journey from Central could easily cost over $400.
Sassy Tip: Ubers and other vehicles are not permitted to enter Sai Kung Country Park, so we recommend taking a standard Hong Kong taxi to avoid any issues.
Read More: The Best Beaches In Hong Kong: HK Island, New Territories, Lantau & More
---
Hiking From Sai Wan Pavillion To Tai Long Wan
When at Sai Wan Pavilion, you will then need to do a short hike (roughly 40 minutes) to get to the beaches of Tai Long Wan. The hike is mostly flat or downhill, with one uphill climb section (it can feel longer than it is when the sun is beating down on you, so bring lots of water!). The entire trail is well-paved and there are no turns, so there's no chance of getting lost! Simply follow the signposts to Sai Wan, and then follow the path down to the beach.
You will first arrive at Sai Wan beach, which connects to Ham Tin beach (about a further 30 to 40 minutes walk). Ham Tin connects to Tai Wan (a further 15 minutes) and then Tung Wan (a further 30 minutes), which are the two more remote beaches with no man-made facilities, restaurants or toilets.
---
Getting Back To Sai Kung Town From Tai Long Wan
To get home, you can either hike back up to Sai Wan Pavilion and then find a taxi or take the minibus to Sai Kung town. For an easier option, you can also book a speedboat that leaves directly from Ham Tin or Sai Wan beach to take you back to Sai Kung. The boat costs between $120 and $150 per person, and the journey takes roughly 30 minutes, with the last boats leaving between 5pm and 7pm (depending on the time of year).
Sassy Tip: Check when you first arrive at the restaurants on Ham Tin and Sai Wan beaches if the boats are running and book ahead. If weather conditions are bad, or if it is particularly windy, boats do not run, so always be prepared to hike out the way you came. Even when conditions are good enough for the boats to run, expect a bumpy ride and protect your belongings from splashes!
Read More: Where To Go Kayaking in Hong Kong
---
What To Do At Tai Long Wan
Hit The Tai Long Wan Beaches
White sands and blue waters are the name of the game here, so there's nothing better than just enjoying a lazy day on the sand. None of the four beaches offer sunbeds or loungers, so be sure to bring your own towel or sarong to lie out on, and a parasol or umbrella for some shade.
Although never too crowded, Sai Wan and Ham Tin beaches tend to attract more crowds as they are the first beaches you reach (and the only with facilities!). Take on the extra walk and head to Tai Wan or Tung Wan for extra seclusion.
The beaches are also dog friendly, which is a rarity in Hong Kong. There are always plenty of pups about enjoying a day in the sand, so if yours can handle the hike in, we highly recommend taking them along for a day out.
---
Surfing At Ham Tin And Sai Wan
It's not called "Big Wave Bay" for nothing, and the beaches of Tai Long Wan are one of the most popular surf spots in Hong Kong. What better place could there be to rent a board and take on the waves? Experienced surfers can rent boards from the restaurant on Ham Tin, but for beginners, we recommended booking a class via Surf Hong Kong in Sai Wan.
Surf Hong Kong is situated in Sai Wan, which is the most accessible beach and typically has the smallest and most beginner-friendly waves. More experienced surfers tend to head to Tai Wan for better quality waves. As this beach is also further away from the main trail, it is also likely to be less busy.
Sassy Tip: There are no lifeguards at any of the beaches, so be sure to take care if you are not with a professional or experienced surfer, especially during the winter months when the sea can be rougher. The currents here can be strong here so stay within your comfort zone at all times.
Read More: Hong Kong Water Sports: SUP, Surfing, Scuba Diving, Kayaking And More
---
Tai Long Wan Waterfalls — Sheung Luk Stream
Found hidden in the hills between Sai Wan and Ham Tin beaches, you'll find cliff-jumping opportunities abound in this tiered series of waterfalls and natural pools by Sheung Luk Stream. To get there, walk past the restaurants in Sai Wan and following the path on your left. Stick to the left until you see the end of the stream, and then trek into overgrown shrubs where you will find fenced-off farmlands on your left. Continue forwards (make sure to watch your step, as you climb the uneven and rocky paths that are shaded by overgrown leaves!). Follow this for 15 to 20 minutes and you will see the waterfall.
Read More: Hong Kong's Best Waterfall Hikes
---
Hiking Sai Kung Country Park
Known as one of the most challenging hikes in Hong Kong, Sharp Peak is a tough trail, even for experienced hikers. A good level of fitness is required to take it on as the hike consists of winding and rugged mountain paths, with the most challenging part of the hike found towards the end when you need to clamber up a steep and strenuous cliff, which eventually leads you up to the hilltop. But the toughest climbs lead to the most stunning views!
To get there from Sai Kung Town, take the 94 minibus or a taxi to Pak Tam Au. Once off the bus, there should be signposts for the MacLehose Section 2 to Chek Keng. After about 30 minutes of walking, you will find the beginning of the Sharp Peak trail (you'll see a warning sign that the trail is dangerous), and from here it should take roughly an hour and a half to the summit. After enjoying the spectacular views from the top, head down to the beaches of Tai Long Wan and reward yourself with a cold beer.
Editor's Note: Make sure to look up the difficulty of the trail route and take necessary precautions before and during your hike. Check the weather for high temperatures or unexpected rain, bring water, wear appropriate clothing and shoes, stay on the path and keep your mobile charged in case you need to make an emergency call.
Read More: Hong Kong's Most Challenging Hikes
---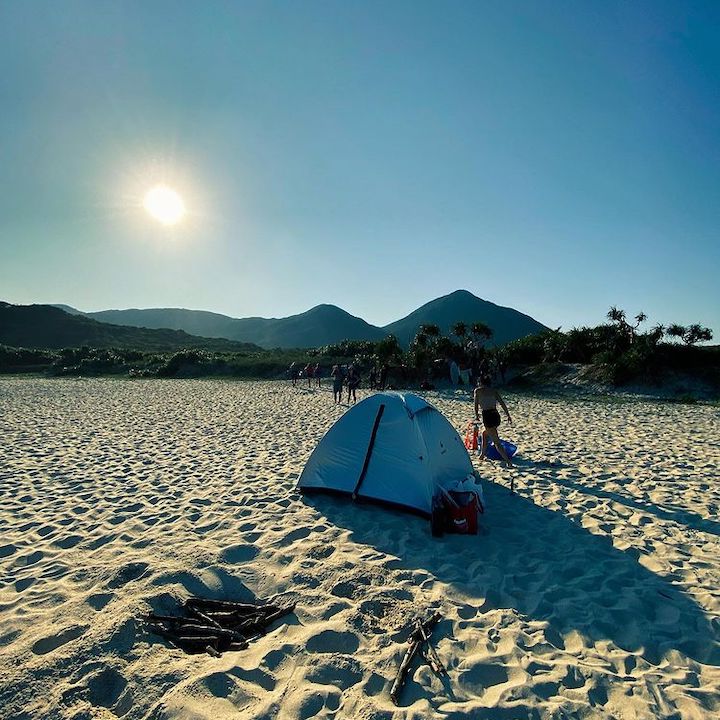 Camping At Tai Long Wan
Tai Long Wan is one of the most popular spots to camp in Hong Kong for a reason. What could be better than an evening away from the city lights and waking up to the sound of crashing waves and sand in your toes? You can camp at any of the four beaches; although it can be busier, we recommend Ham Tin as it is closest to the facilities.
Two-man tents can be rented at the beach restaurant for about $150, sleeping bags for $50 and mats for $20, plus a $100 deposit. Firewood can also be bought from the store on site – just try and get there early as it can sell out! Although the restaurant is basic, it's cheap and cheerful – and means that you don't have to worry about carrying too much food and drink with you to the beaches, as everything can be purchased once you're there.
Read More: The Best Camping Sites In Hong Kong
---
What To Eat & Drink In Tai Long Wan
Hoi Shan Restaurant & Oriental Restaurant and Bar – Sai Wan
The two main stops for food and drink in Sai Wan are Hoi Shan Restaurant and Oriental Restaurant and Bar. At both, you can book speedboats back to Sai Kung. Although Oriental is the slightly more expensive of the two, both are very cheap by Hong Kong standards.
---
Hoi Fung Store & On Kee Store – Ham Tin Wan
To reach the restaurants on Ham Tin Wan beach you will first need to cross a rickety plank bridge over a mini river, so try not to be carrying too many belongings when you head this way. The bridge requires a little balance to get across, but the food is enough to tempt post-hikers.
The setup at both restaurants is pretty basic, as is the case in Sai Wan, but prices are cheap, menus are in English and beers are in good supply. We're fans of the chicken wings, fried udon noodles and the mixed vegetable fried rice at Hoi Fung. The restaurant also serves breakfast and coffee in the morning. You can find basic toilets out back and boats back to Sai Kung can be booked from here.
Situated just next door to Hoi Fung, On Kee serves up basic cha chaa teng style food as well, along with cold beers and bottles of wine. Camping supplies such as tents, mats and sleeping bags can be rented from here for the night.
Sassy Tip: No cards are accepted at any of the restaurants, so make sure to have enough cash on hand.
Read More: Your Neighbourhood Guide To Sai Kung
---
What to Take To Tai Long Wan
You may want to take your camera to capture the stunning scenery, but we suggest travelling light and leaving valuables at home. Along with beach and hiking-appropriate clothing, we recommend taking:
Swimwear
Towel or sarong
Suncream
Mosquito repellent
Hat or other sun protection
Plenty of cash (once you've left Sai Kung town, there are no ATMs!)
Waterproof or sealable backpack – to help protect valuables such as cameras from sand and water damage
Water for the journey – although supplies can be purchased from the restaurants on Sai Wan or Ham Tin Wan beach
Trainers or hiking shoes for the hike in, and flip flops or sandals for when you are on the beach
If you are planning to spend the night in Tai Long Wan, we again recommend packing light! Sleeping bags, mats and tents can be hired when you are there, and food and drink is in good supply. During winter months, you may want to pack trousers and long sleeves as it can get cool in the evenings and first thing in the morning.
---
Editor's Note: "Tai Long Wan: What To Do, See & Eat At This Sai Kung Beach" was originally published by Annie Simpson in December 2018 and was most recently updated by Fashila Kanakka June, 2022.