Shhh…
District: Central, Hong Kong
Cuisine: Cocktails and hotdogs!
How much: All cocktails are $158, hotdogs are $98 each
The Best For: Fancy date night
Must Order: Mescal Mule to drink; Tayoaki Tots to eat
Sassy Tip: This spot is sure to be busy for weeks to come, so it's best to book in advance to avoid any disappointment. And if you are lucky enough to make it to the phone booth, the magic number to dial is 1 (though we didn't tell you that…)
New York mainstay PDT (Please Don't Tell) opened in Hong Kong just last week, and is serving up creative and unique cocktails, accompanied by comfort food in the form of hotdogs and tatter tots. After its highly successful pop-up back in 2016, we (like much of the city) have been itching to try it out for months, but did it live up to the hype?
We're not exactly spoiled for choice in the 852 when it comes to bars, and there are now more speakeasies popping up than ever before. So, what makes PDT different? To start with, the bar itself does feel pretty glam; from the much talked about telephone booth entrance (it may sound silly, but I thought it was a fun touch), to the intimate space which is finished with a stylish copper bar top, herringbone patterned wood ceiling and walls adorned with taxidermy. Whether you're stopping in for a quick drink pre-or post-dinner, or settling in for the night, the space feels tucked away and private, a welcome escape from the bustling streets outside.
As to be expected, the drinks here are expertly made. Using the same knowledge and expertise that are all too well-known in the NYC location, renowned mixologists Jim Meehan and Jeff Bell present a menu of creative cocktails, which apply a unique and considered twist to the classics. Always a fan of drinks which incorporate ginger, the bar tender recommended the Mezcal Mule to me. Made from a combination of Del Maguey Vida mezcal, ginger beer, lime juice and passion fruit nectar, the drink came attractively presented and garnished with candied ginger and cucumber. I loved the smoky sweetness of the drink, that was rich, fruity and refreshing all at once.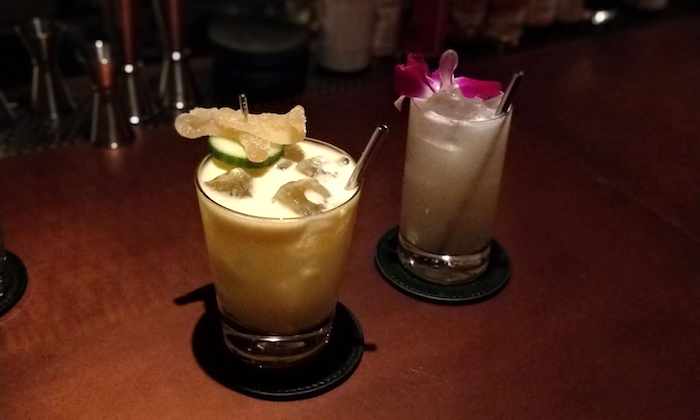 A staple found on the New York menu, the Benton's Old Fashioned also did not disappoint. Created with Benton's bacon-infused Wild Turkey Bourbon, maple syrup and Angostura Bitters, we found this twist on the classic to be a step up from many others out there, which clearly portrayed the intelligent mix of tradition and innovation, seemingly the theme at PDT.
Now, what's a cocktail bar without some bar snacks? Here, PDT proves that it's not taking itself too seriously, by presenting hungry drinkers with a menu of five hotdogs, accompanied by a selection of tater tot sides. We couldn't resist ordering the Tayoaki Tots ($98), topped with Kewpie mayo, Tayoaki sauce, shredded nori bonito and scallions, these tots are doing a fine job of masquerading as okonomiyaki and (needless to say), they disappeared embarrassingly quickly. We also sampled the Yankie Dog (a pork dog with Benton's bacon, Dijon mustard, onions and sauerkraut), along with the Honkie Dog (a pork dog with cabbage, Sakura shrimp, scallions and XO mayo). Both were (obviously) delicious and although you're munching on a hotdog in a swanky bar, they manage to retain the classic flavours and nostalgia that come with a proper hotdog, albeit in a slightly more refined fashion.
Our verdict? It can't be denied that PDT serves up some really great drinks (and hotdogs that are perfect to wash them down with!), but it isn't the bar to head to "just because." Although the ambience is relaxed, the price point is at the higher end of the scale, so it's best reserved for a special occasion, or a fancy date night. The intimate space lends itself best to smaller groups, with the bar being the perfect spot to watch the barkeeps work their magic, with the booths better suited for group bookings.
PDT (Please Don't Tell), The Landmark Mandarin Oriental, 15 Queen's Road Central, Central, www.mandarinoriental.com/hong-kong/the-landmark/fine-dining/bars/pdt
Featured image and images #2, #3 and #4 taken by Annie Simpson, image #1 courtesy of PDT.