Get your hands dirty and check out these great places to learn ceramics and pottery in Hong Kong.
Allow us to tell you why we love pottery (cue "Unchained Melody"). Not only is it fun to get your hands dirty every once in a while, but you can also pat yourself on the back — after washing off all that clay — for creating something practical that you can use at home or even gift to a friend. If you're in the market for a new plant pot, mug, candle holder or jewellery dish, why not make it yourself (we're looking at you DIY queens and kings!)?
Whether you're keen to start with the fundamentals of pottery, like hand-building and throwing, or jump into more advanced skills such as trimming, glazing and raku firing, there is a whole range of workshops available. So throw on your apron and check out these pottery and ceramics making classes in Hong Kong.
Head here for more creative classes to try in Hong Kong like glass blowing, candle making and more.
Read More: Unconventional Creative Classes To Try In Hong Kong
---
Tung Yao Ceramics – Throwing trial classes, ceramics technical and theory courses and more
TY Ceramics offers a wide range of courses, including single-item workshops, throwing trial classes and a ten-lesson "Ceramics Technical & Theory Course" for those who wish to master all the basics. The studio even has its own ceramics supply store and 24-hour access ClayLabs in Tin Hau, Sheung Wan and Tsim Sha Tsui that you can rent out for self-use or teaching.
Tung Yao Ceramics, 3A Chui Kwong Street, Sai Ying Pin, Hong Kong, 6015 6044, tungyaoceramics-onlineshop.com
---
Half Corner Studio – Hand-building and throwing workshops
Half Corner Studio is a great place for beginners who want to start with the basics. Learn how to prepare the clay and use different hand-building techniques like pinching, coiling and slab building. Then try your hand at throwing on the potter's wheel to create anything from mugs to bowls — or even vases and teapots! The studio also hosts special events, allowing its regular students to pick up more advanced skills such as image-transferring and wood-firing.
Half Corner Studio (Causeway Bay Studio), 1/F, Fortune Court, 33 Morrison Hill Road, Causeway Bay, Hong Kong, WhatsApp: 9673 7080, www.halfcornerstudio.com
Read More: Top Flower Shops & Florists In Hong Kong For Flower Delivery
---

CC Art Studio – Clay modelling and ceramic painting
Perfect for couples or friends who are looking for a fun afternoon or weekend activity to do together, local ceramic artist Rita opened CC Art Studio to share the joy of her favourite hobby. Create anything from adorable animal figurines to trinket dishes inspired by your favourite cartoon character and more.
CC Art Studio, Flat E, 6/F, Edward Mansion, 141 Prince Edward Road West, Prince Edward, Kowloon, Hong Kong, 9546 6825, ccartstudio.org
Read More: 10 Unique And Unusual Things To Do In Hong Kong
---
Touch Ceramics – Learn how to repair ceramics using the kintsugi method
Tucked in the corridors of Tai Kwun, Touch Ceramics runs regular pottery classes that are suitable for all levels, priced at $2,100 for four classes. For something a little different, sign up for the kintsugi course to learn the Japanese ancient art of repairing broken ceramics by filling cracks with lacquer and gold dust.
Touch Ceramics, Shop 203, 2/F, Barrack Block 3, Tai Kwun, 10 Hollywood Road, Central, Hong Kong, 2562 9000, WhatsApp: 5137 9943, www.touchceramics.com
---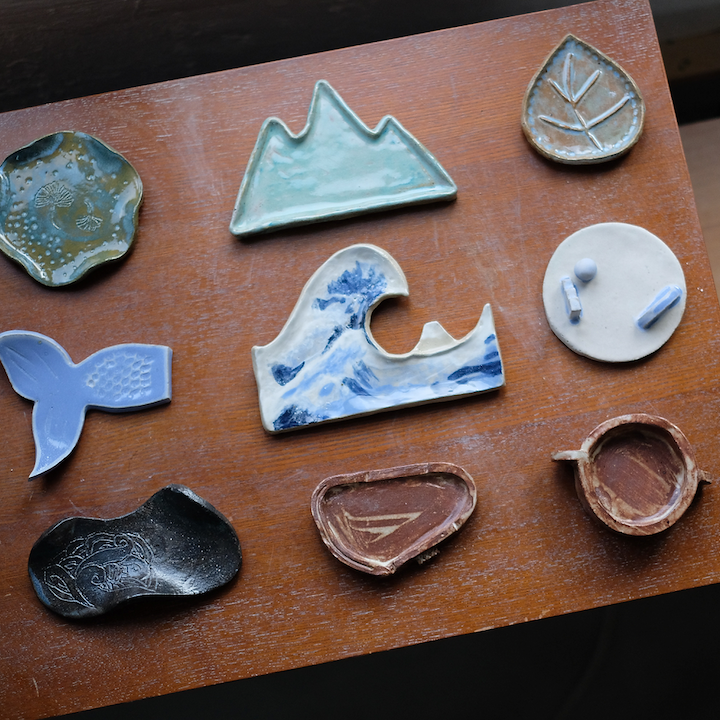 Useless Studio – Hand-building and pottery-throwing classes in Kowloon
Ignore its name! Useless Studio is extremely useful in helping you advance on your journey to becoming a pottery pro. It hopes to promote slow living through the process of pottery making, so remember to relax as you mould your little masterpieces. Sign up for a class to hand-build teaware, candle holders or trinket dishes, or to sit down at the wheel to create a ceramic vase, plant pot, coffee dripper and more.
Useless Studio (San Po Kong), Room 6, 8/F, Laurels Industrial Centre, 32 Tai Yau Street, San Po Kong, Kowloon Hong Kong
Useless Studio (Mong Kok), Shop 105, 618 Shanghai Street, Mong Kok, Kowloon, Hong Kong, www.useless-studio.com
---
Two Parts Studio – Small classes teaching pottery throwing basics
Well worth the trip to the Southside, Two Parts Studio offers beginner and advanced courses on pottery that will take you through wedging and pinching, wheel throwing techniques, trimming and glazing. Classes are kept small (with a maximum of four students) so you can enjoy one-on-one time with the instructor as you create your masterpiece.
Two Parts Studio, Unit 3, 2/F, Eastern Centre, 1065 King's Road, Quarry Bay, Hong Kong, 5505 0828, www.twopartstudio.com
Read More: Things To Do Indoors When It's Raining In Hong Kong
---
Mudheytong Gallery – Ceramic courses on wheel throwing, hand-building and glazing
Founded by two local Hong Kong ceramicists, Mudheytong (Cantonese for "clay ware space") serves as a space for running relaxed ceramic courses on wheel throwing, hand-building and glazing techniques, and also holds educational lectures and artist exhibitions to promote the craft.
Mudheytong Gallery, 175 Tai Nan Street, Sham Shui Po, Kowloon, Hong Kong, 9863 2210, www.mudheytong.com
Read More: Team Building In Hong Kong – Our Favourite Group Activities For Work Bonding
---
More Places To Learn Ceramics And Pottery In Hong Kong
---