Planning a family banquet and in need of a Canto feast? Got friends in town who are clamouring for a dim sum extravaganza? Well, if you've got the budget, then the Four Seasons Hong Kong's Chinese restaurant, Lung King Heen, should probably be somewhere near the top of your list.
The first Chinese restaurant in the world to be awarded the coveted three Michelin stars, Lung King Heen boasts amazing harbour views that should be enough to impress any wide-eyed out-of-towners… or even jaded Hong Kongers to boot! Meanwhile, the attentive service, elegant décor and expansive menu of authentic Canto delights is every bit as luxurious as you'd expect from one of the best hotels in Hong Kong.
We kicked off our meal with a selection of beautifully presented dim sum – and make sure you load up on various sauces to douse your dim sum in too, as their XO sauce is especially good and just the thing to give these delicate steamed morsels a bit of a kick! My favourites were the xiao long bao (thin dim sum skin, flavourful soup and a touch of crab meat for extra sweetness) and the close-to-perfect spring roll (crispy, not greasy and stuffed with great quality seafood)… plus, even though I'm no big fan of abalone, even I could appreciate how good the abalone puff was, with its delicious buttery pastry and an incredibly moreish sticky-sweet soy sauce.
Our next dim sum essential – a barbeque platter! Lung King Heen's comprised of crispy suckling pig, roast goose with plum sauce, char siu with honey and marinated jellyfish. I could have done without the jellyfish, which seemed slightly at odds with the rest of the meltingly fatty meats and their accompanying crispy skins, but the rest was pretty spot on. The roast goose, in particular, was superb and who can't resist a good bit of crunchy suckling pig crackling, eh?!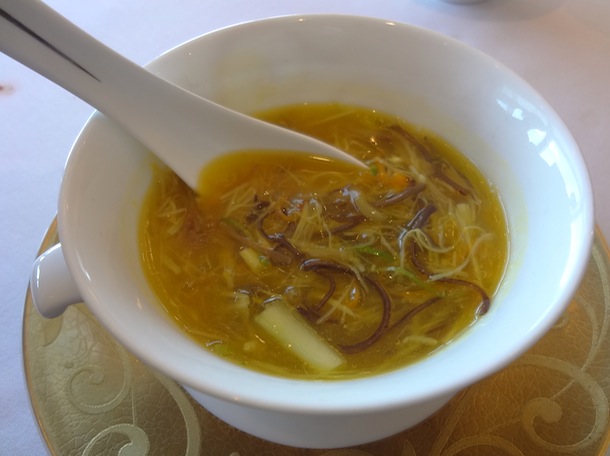 I'm generally not a huge fan of Chinese soups, but Lung King Heen's "superior pottage" with shredded chicken was all out amazing. Thick, rich and bursting with intense chicken flavour, this little bowl of Chinese comfort surprisingly turned out to be one of the highlights of my meal.
Next, it was onto a couple of main dishes. The wok-fried prawns in XO chilli sauce were perfectly cooked – bouncy, sweet and tender – although they didn't feel that different to the normal fare you'd find in most Canto restaurants. Instead, the star was the steamed garoupa fillet with ginger and spring onions. This, to me, epitomised Chinese cooking at its best – simple, fresh and delicious. The garoupa was beautifully meaty and set off wonderfully by the light, clean sauce of ginger and spring onions; even better, you're presented with individual bamboo basket portions, meaning you don't have to share either (and trust me, you won't want to!).
Finally, it was time for some desserts. Mango sago pudding is a standard in nearly every Chinese restaurant these days, but Lung King Heen's was again one of the best I've tried. Perhaps it was because there wasn't an abundance of pomelo (which I dislike) overpowering the dish, but the balance between pieces of juicy fresh mango, pops of sago and sweet smooth "soup" was just right. Light and refreshing, I kept finding extra room to keep spooning this down!
A small selection of Chinese petit-fours finished our meal – and the baked custard cream puff was a little piece of baked heaven. My friends know that I'm obsessed with all things custard in Chinese cooking (the search for the perfect lao sa bao continues!) and the only way this custard puff could have been better would have been if it was four times as big and I had a box to take home with me!
Of course, Lung King Heen is going to set you back a fair bit more than your average Canto restaurant and even though many dishes are not that different to the norm, they're executed faultlessly and consistently – the dim sum costs around $60, whilst a la carte dishes are roughly $2-400 each (with some dependent on market price). If you're around for lunch, be sure to check out the Executive Set Lunch, which includes seven courses (including many that I tried) for $485 per person which, given the quality, is a bit of a steal. Otherwise, be prepared to stump up – but for quality Chinese fine dining in the loveliest of surroundings, it's worth it.
Lung King Heen Podium 4, Four Seasons Hotel Hong Kong, 8 Finance Street, Central

3196 8880 www.fourseasons.com/hongkong/dining/restaurants/lung_king_heen/