Newly opened by Chef Que Vinh Dang, Nhau is putting a modern spin on Vietnamese cuisine in its relaxed Sheung Wan location.
District: Sheung Wan, Hong Kong
Cuisine: Vietnamese
How much: Dishes range between $140 and $280
Must Order: Roasted Cauliflower with Caramelised Pork Koh Quet
The Best for: Casual date night or group dining
Sassy Tip: The restaurant is still waiting on its liquor licence, so BYOB is welcomed. Chef recommends Chardonnay wines to complement the dishes on offer, but I found that a fresh coconut went equally well.
Hidden down an unassuming path just below Hollywood Road in Sheung Wan you will find Nhau, the newest Vietnamese restaurant to open in Hong Kong. Helmed by Chef Que Vinh Dang (foodies may know him from previous ventures; TBLS Kitchen Studio and Wan Chai restaurant Quest by Que), Nhau opened its doors in January, and is serving up contemporary Vietnamese cuisine. The menu is built around "nhậu", literally translated to "together", which describes the Vietnamese ritual of feasting & drinking with friends & family – much like the Japanese izakaya. The shareable dishes are Chef Que's interpretations of traditional recipes, which maintain the familiar tastes and textures of Vietnamese cuisine, but both preparation and presentation have been given a modern twist.
And it's not just the food that gives a contemporary taste of Vietnam. The sunny yellow walls and hand-painted tiles reflect traditional Vietnamese design, and the restaurant has been given a chic and modern update, with the addition of marble topped tables and rattan chairs, alluding to the French legacy of Vietnam (making for a picturesque backdrop to our meal).
We began our meal with a selection of plates, including the Hamachi Bowl ($180), with rice noodle salad, fish sauce and crispy turmeric batter and the Tôm Kho Tàu ($140) with tiger prawns, green papaya salad and shrimp roe. Both dishes were full of fresh flavours, and the prawn salad had a good kick of spice that we always expect from Vietnamese cuisine, but it was the Hamachi that stood out. The fish was lightly seared on the outside and was delicious coupled with the rice noodles, while the finely sliced radishes and pickled vegetables brought a welcome crunch to the dish.
One of the plates that I was most looking forward to trying at Nhau was the Bánh Mi Rice Tacos ($120 for three). As a combination of two of my favourite things, I had high hopes, but it didn't disappoint. All the flavours of a banh mi were there, with tender and intensely flavoured iberico pork belly, a punch of spice, as well as the crunch and tang from the pickled daikon and carrots on top. The rice taco itself was a little tough, but the flavours on top made up for this, and I could have easily eaten more than my share of this dish (accompanied by a cold beer). These tacos can also be prepared using Impossible Meat, for any veggies out there wanting to try this international hybrid, and we hear that chicken and fish versions will also be launching soon.
My favourite dish of the night was the Roasted Cauliflower with Caramelised Pork Koh Quet ($140). I love cauliflower, but this is sure to convert even the biggest veg-phobes out there. The cauliflower was roasted but still maintained a bite, which coupled with the caramelised Pork Koh Quet took it to a whole other level, with the sticky and sweet pork belly adding another element to a dish that was already full of the flavours of black pepper, garlic and fish sauce. We also enjoyed the Grilled Fish Salt Cured Whole Spring Chicken ($220), which was served with lettuce, herbs and rice noodles, inviting diners to create their own lettuce wraps. The chicken had been slow cooked and was tender and juicy, with a thin crisp skin. The chicken breast pieces were perfect for wrapping in the lettuce leaves with the other accompaniments, though the leg and wings were best munched straight off the bone.
When it comes to desserts, Nhau serves up three sundaes (all $140), which were all equally tempting with flavours that include salted coconut caramel ice cream, caramelised bananas and pandan ice cream, but we opted for the coffee ice cream with coffee sponge and condensed milk. The ice cream had an intense flavour of Vietnamese coffee and wasn't too sweet, just the thing to finish off our meal. It's also worth noting that although the price may be a little high for a dessert, the serving size is generous, so one dessert between two to three people is recommended.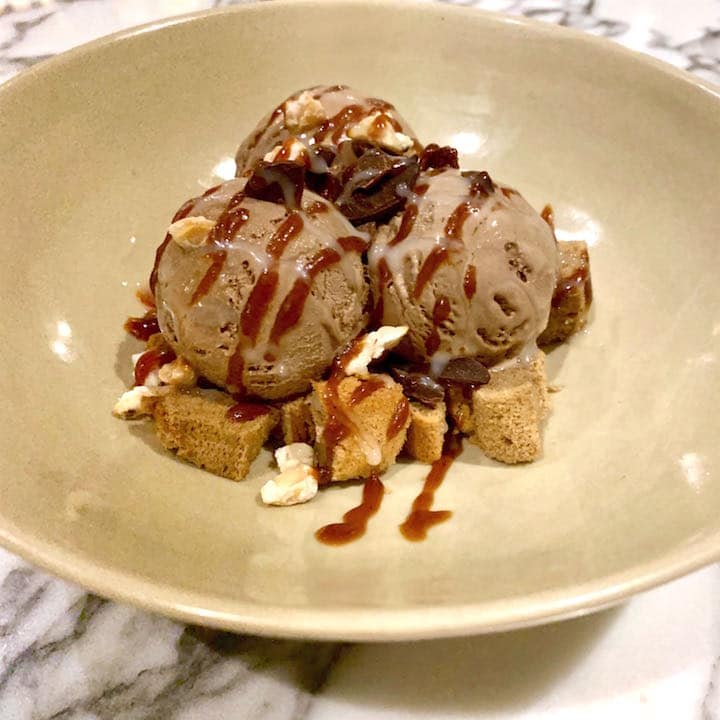 Our verdict: There are several very good Vietnamese restaurants in Hong Kong, but Nhau stands out for its unique and creative takes on classic dishes at a reasonable price point. We'll be heading back for a second helping of the standout roasted cauliflower dish, several more banh mi tacos, and to try more of its tempting desserts.
Nhau, 12 Circular Pathway, Sheung Wan, Hong Kong, www.nhau.hk, www.facebook.com/Nhau
All images property of Sassy Media Group.