In the mood for Tiger Sugar's brown sugar milk tea or a cheese-topped fruit tea from HEYTEA? We're sharing our favourite places to go for bubble tea in Hong Kong.
There are easily more bubble tea shops dotted around the city than boba floating in your drink. And with one at practically every corner you turn, we understand why you've come here for some guidance. The options are truly endless, from the variety of tea to the level of sweetness and sinkers to add, and we know everyone has their own preference when it come to the perfect bubble tea. As such, we tried to cover all the bases, from brown sugar milk tea to cheese-topped fruit tea, and even some healthy alternatives, to bring you a handy list of our favourite bubble tea shops in Hong Kong, plus our go-to orders.
Read More: New Drinks Menus & Bar Openings
---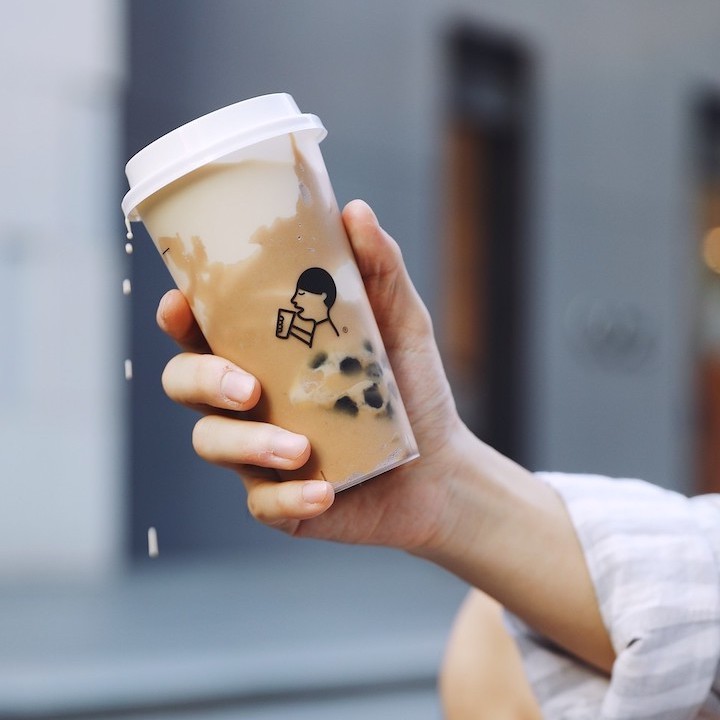 HEYTEA
This popular Chinese tea drink chain, which originated in Guangdong, brought to fame the divisive cheese-in-tea trend. We personally stan the controversial combo and have yet to come across a brand that does it better than HEYTEA. Thankfully, the queue has calmed down substantially since the franchise first landed in Hong Kong, so you won't have to wait hours to get your order.
Sassy Pick: King Fone Cheezo Tea ($32) – roasty oolong tea topped with HEYTEA's signature cheese foam.
HEYTEA, Shop B216, B/F, Times Square, 1 Matheson Street, Causeway Bay, Hong Kong, 3106 2996, www.facebook.com/HEYTEAHKMACAU
Read More: Your Neighbourhood Guide To Causeway Bay
---
The Alley
An Insta-famous Taiwan-based bubble tea spot in Tsim Sha Tsui, The Alley has amassed an immense following, with dedicated patrons who would gladly cross the harbour for its tea. The all-natural housemade sugar cane syrup adds a subtle sweetness to the drinks but what people keep coming back for are the trademark "Deerioca" tapioca pearls.
Sassy Pick: Brown Sugar Deerioca Crème Brûlée ($36) – a truly indulgent treat for those with a sweet tooth.
The Alley, Shop F, G/F, Alpha House, 27-33 Nathan Road, Tsim Sha Tsui, Kowloon, Hong Kong, www.the-alley.hk
Read More: Your Neighbourhood Guide To Tsim Sha Tsui
---
POT•ION HOUSE
There's a new Taiwanese bubble tea shop on the block by the name of POT•ION HOUSE! You'll find the usual suspects like brown sugar boba milk and cream cheese topped teas, but if you're looking to try something a little different, the store's specialty lies in "cha dong" (think jellied milk, tea and coffee) which make a fun alternative to tapioca pearls.
Sassy Pick: Vintage Black Tea with Soybean Milk Jelly – an interesting twist on milk tea with creamy jellied milk.
POT•ION HOUSE, G/F, 20 Tai Wong Street East, Wan Chai, Hong Kong, 2468 8722, www.instagram.com/pot.ionhouse
---
Milksha
Conversely, this drink franchise is all about the milk. Known as Milkshop in Taiwan and Milksha everywhere else in the world, the drinks here stand out for it's top-quality fresh milk. Following with the white theme, the brand is also beloved for its colouring-free, honey-soaked White Pearls.
Sassy Pick: Bubble Earl Grey Milk Tea ($28) – creamy Earl Grey milk tea with chewy Honey Pearls. The Fresh Taro Milk is also a crowd favourite, which uses a special taro imported from Taiwan's Dajia district.
Milksha, various locations across Hong Kong, www.facebook.com/milkshahk
Read More: www.sassyhongkong.com/how-to-make-bubble-tea-cooking-recipe-lifestyle
---
Mother Pearl
Let's face it, bubble tea is basically dessert in a cup. But this local sustainable vegan pearl tea shop makes the guilty pleasure a little less naughty. All the ingredients used at Mother Pearl are made from scratch, including its plant-based "mylk", superfood tapioca pearls, and alternative sweeteners. We also love that the brand uses biodegradable straws and takeaway cups.
Sassy Pick: Yuen Yeung 2.0 ($38) – milk tea with an extra kick of caffeine featuring organic coffee froth and tea jelly.
Mother Pearl, various locations across Hong Kong, motherpearl.world
Read More: Your Guide To Vegan & Vegetarian Restaurants In Hong Kong
---
Ten Ren's Tea
Founded in 1953, Ten Ren is the OG Taiwanese tea brand, boasting over 60 shops in Hong Kong alone and an extensive variety of refreshing tea-based drinks on offer, from Oolong Tea Latte with Brown Sugar Pearls to Matcha Latte Cooler and Green Tea with Fresh Fruit. If you really want to cool down, order a tea-flavoured soft serve cone.
Sassy Pick: 913 King's Oolong Milk Tea ($20) – one of its signature brews
Ten Ren's Tea, various locations across Hong Kong, www.facebook.com/TenRensTeaHongKong
Read More: Where To Find The Best Ice Creams In Hong Kong
---
Silk.
Hand-shaken not stirred. Silk. brings together the tradition of Hong Kong-style silk stocking milk tea and Taiwanese hand-shaken beverages. Made with a rich black tea from Sri Lanka, evaporated milk from Hong Kong, the velvety drinks in the "Smooth as Silk" series certainly live up to their name. Want to bring your pup along for a boba date? Silk. offers free "Puppiocas" to all it customers!
Sassy Pick: Smooth King ($36) – Hong Kong-style milk tea with brown sugar tapioca pearls topped with cheese foam and honeycomb.
Silk., various locations across Hong Kong, www.thesilktea.com
Read More: The Best Dog-Friendly Restaurants, Beaches, Hikes & Parks In Hong Kong
---
Tiger Sugar
This famous bubble tea brand is synonymous with brown sugar boba drinks. In fact, it gets its name from the streaks of syrup that the pearls leave down sides of the cup. After taking that obligatory pic for the 'Gram, give your drink a good shake to get all that delicious toffee-like syrup to mix in with the milk and enjoy!
Sassy Perk: Black Sugar Boba Milk ($30) – The quintessential brown sugar boba in fresh milk
Tiger Sugar, various locations in Hong Kong, hongkong-macau.tigersugar.com
---

Cupfy
Founded by Hong Kong local Amy Ip, here's another homegrown tea shop that prides itself on being a healthier alternative and environmentally-friendly. The name Cupfy is a play on "cup-free", so expect your drink to be served in a glass (otherwise it's encouraged that you bring your own to-go cup to have your drink to-go). One more thing to note is the brand's slogan, "less sugar, more sweetness", meaning the drinks here are only slightly sweetened with raw cane sugar or sugar-free maltitol.
Sassy Pick: Cupfy Milk Tea ($27) – go for the classic milk tea or try one of the more creative flavours like the Oreo and Salted Butter Milk Tea ($38).
Cupfy (Hysan Place), Eslite, Shop L903A, 9/F, Hysan Place, 500 Hennessy Road, Causeway Bay, Hong Kong, 3419 6729
Cupfy (Mong Kok), Shop 26A, G/F, Hollywood Plaza, 610 Nathan Road, Mong Kok, Kowloon, Hong Kong, 2489 9888, www.cupfy.co/shops
Read More: Your Guide To Zero Waste & Bulk Food Stores In Hong Kong
---
Chun Shui Tang
If you're one to judge a milk tea by the flavour and richness of the tea, then it would be worth trying out the hand-shaken concoctions at Chun Shui Tang. The brand was founded back in 1983 and is the self-proclaimed pioneer of Taiwanese bubble tea. We like that the brand uses crushed ice which keeps the tea extra cold, making it a great drink to grab on a hot day.
Sassy Pick: Pearl Tieguanyin Milk Tea ($34) – a rich and roasty milk tea with mini pearls
Chun Shui Tang, various locations across Hong Kong, www.facebook.com/chunshuitanghk
---
COMEBUYTEA
With tea leaf grinders fitted onto the walls and TEAPRESSO Machines working their magic, you can tell by the shop's setup that this brand means business when it comes to tea brewing. The drinks are made using a five-step process, sans artificial flavours or colouring (plus they're nut-free and gluten-free too!).
Sassy Pick: Roasted Oolong Milk Tea with Taro & Yam Bubbles ($36) – we love the QQ taro and yam bubbles
COMEBUYTEA, various locations across Hong Kong, www.facebook.com/comebuyteahk
Read More: Your Guide To Gluten-Free Restaurants In Hong Kong
---
More Bubble Tea And Milk Tea Shops In Hong Kong
Read More: Your Guide To Local Hong Kong Dessert Shops
---