Andō, the new restaurant from 2019's "Best Young Talent in the World", will delight foodies with its label-defying inventive dishes and top-notch ingredients.
District: Central, Hong Kong
Cuisine: Modern fine dining, influenced by Japanese and Argentinian cuisines and techniques
How much: The Presentacion (five course) menu is priced at $588 per person at lunch and $1,288 at dinner; The Experencia (eight course) menu is priced at $888 per person at lunch and $1,688 at dinner
Must-try dishes: Partir (a showcase of raw seafood) and Risas Del Jardin (a celebration of Wagyu)
The best for: Occasion dining
With city stalwarts including Duddells and 22 Ships, and one of last year's most exciting new openings, Louise, in its stable, a new restaurant from JIA Group is always something to be excited about. Tucked away on Wellington Street, Andō, the group's latest opening, is helmed by Chef-Founder Agustin Ferrando Balbi. Originally hailing from Buenos Aires, Balbi has worked in some of Asia's top Michelin-starred kitchens including Zurriola and Cuisine[s] Michel Troisgros in Japan and, most recently, Haku in Tsim Sha Tsui. Naturally, we couldn't wait to see what he had up his sleeves for this, his first solo restaurant concept.
Perhaps unsurprisingly, Andō's cuisine is inspired both by Balbi's Spanish/Argentinian heritage and his experience in top Japanese kitchens. Even the name he chose for the restaurant reflects this as Andō has multiple meanings: in Spanish, it translates to the present act of doing, while in Japanese, the word alludes to a sense of comfort.
Read more: New Restaurants In Hong Kong
Open for both lunch and dinner, Andō presents only tasting menus at both sittings, giving you the chance to experience the full range of the team's skill and creativity. We chose to sample the limited edition Prestigo lunch menu, an eight-course tasting menu with an optional wine pairing (though no longer available, we recommend trying the Experencia for a similar experience). Designed to showcase Balbi's incredible technical skills, plus the great quality ingredients he has sourced from all over the world, we were delighted and surprised by the playfulness of each course.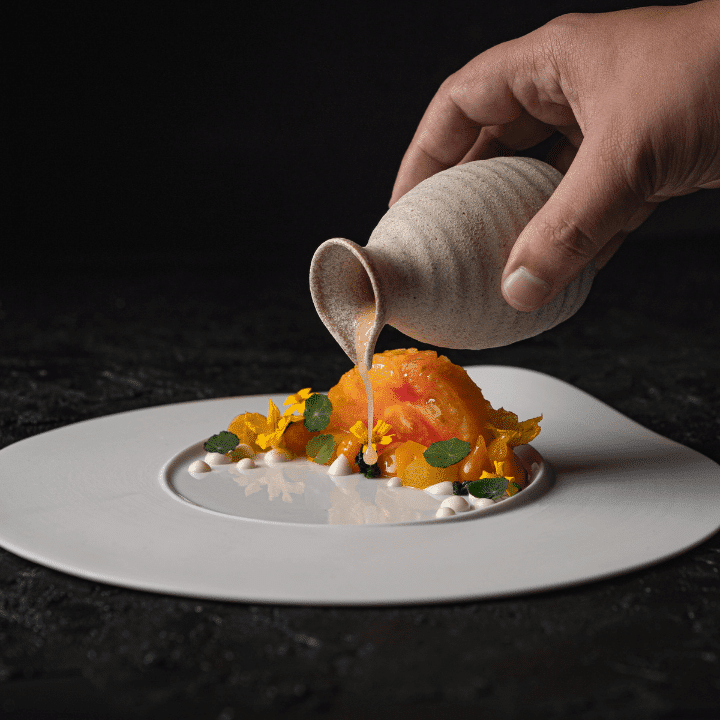 To start, we were presented with Como En Casa, a delicate sashimi dish featuring celeriac purée and a flower crisp, and Todo Differente, a medley of burrata, incredibly fresh, juicy tomatoes and Japanese mango. With each dish as beautiful to look at as it was to eat, this was a sign of what was to come.
The next dish, Partir, was a real standout for everyone at the table. This showcase of raw seafood selections was presented on five small honeycomb plates. Brought to the table and placed down one by one, this touch added a real sense of theatre and excitement for everyone. We sampled buttery soft scallop, rich and fatty tuna, and fresh and flavourful red prawn, each paired with different seasonings and as delicious as the last. The selection of seafood in this dish will change daily to ensure that the freshest and best ingredients are used, but Chef assured us that Partir will continue to be a fixture on the menu for diners to experience!
It was then onto the mains. We started with the Medio Mundo, which showcased kinmedai, a red fish known in English as 'splendid alfonsino'. Paired with smoky miso eggplant and a drizzle of tangy yuzu-butter sauce, it was rich and buttery, without being too overwhelming. This was the perfect lead in to the dish we'd all had our eye on – Risas Del Jardin.
Featuring melt-in-your-mouth Kumamoto Wagyu, this dish is inspired by Argentina's famous Garden BBQ parties, and was a real celebration of the fantastic quality and flavour of the Wagyu. The unexpected pairing of the meat with a spicy corn purée, shishito pepper and a silky smooth bone broth resulted in an incredibly flavourful dish. Andō is the only restaurant in Hong Kong where Kumamoto Wagyu is served, with Balbi being one of seven worldwide chef ambassadors.
The final three courses were a gear switch after our culinary tour of Japan, with the emphasis now placed on Chef Balbi's early influences growing up in Argentina. Sin Lola, a tribute to his late grandmother, is a play on a traditional rice soup that she served to him as a child. Of course, Balbi puts his own spin on it, elevating a simple staple with abalone and Japanese rice, and serving it in a sharing style pot to evoke the feeling of Mediterranean family dining.
We ended our tasting journey with two sweets. Balbi has employed the skills of Joanna Yuen (formerly of NOBU) as the restaurant's Head Pastry Chef, and her inventiveness with flavour and presentation was a joy to see – and eat! Inspired by sweets that Balbi ate as a child, Un Segundo De Amor was a fresh, fruity delight featuring Ume (Japanese plum) foam, whiskey agar and a tonka tofu panna cotta. The We Both Loved It, on the other hand, takes its cue from a traditional Japanese dessert, but with an Andō twist – a rich and decadent white bean shell filled with passion fruit caramel and meltingly rich Guatemalan dark chocolate. Reader, we all loved it.
Our verdict: The restaurant team's incredible attention to detail, and Chef Balbi's emphasis on the best craftsmanship and quality ingredients, shone through in every element of our experience at Andō. From the beautifully sourced tableware and decor (including handcrafted ebony chopsticks sourced from Japan) to the top-notch ingredients at every course and the stories behind every single dish, Balbi and the team at Andō have created a dining experience you won't forget in a hurry. 
Andō, 1/F, Somptueux Central, 52 Wellington Street, Central, Hong Kong, WhatsApp: 9161 8697, info@andohk.com, www.andohk.com
All images courtesy of Andō.