There are plenty of ways to make sure your big day is kinder to the environment!
Little changes can really make big events more eco-friendly, and a wedding is no different. An increasing number of companies are becoming more and more conscious about the importance of making greener business decisions. To help make planning your eco-friendly wedding a little easier, we've curated a list of the most significant ways you can throw a low impact wedding, with recommendations for everything from the invitations, to the dress, food and decor!
Read more: Where To Buy Your Wedding Dress In Hong Kong
The Venue
When you are looking for wedding venues, be sure to seek out places that have proven sustainability initiatives and makes an effort to give back to the community. For more luxurious hotel settings look for standards like ISO 20121 and ISO 14001 which are highly regarded and used to provide companies with guidelines and objectives on how to measure their eco-progress.
Venues that are transparent and keep track of their efforts when it comes to waste, carbon emissions and resource management are an excellent choice, look for certifications that ensure buildings adhere to green building standards like LEED or Green Key.
If you are looking at smaller family-run venues, it is much easier to spot or communicate your eco-expectations. Having your wedding outside can save on energy costs and lighting, and opting for a romantic candlelit setting is always a great idea for a wedding reception.
Ideally, choose a venue that uses solar power energy and makes reductions on its energy consumption overall.
The Invitations
When it comes to invitations there are a number of ways you can reduce your impact, with many companies offering recycled paper or paper alternatives made from low impact fibres such as bamboo or hemp. Consider using soy-based inks, organic pigments, or choose seeded cards which your guests can plant! Choosing recycled paper ensures you are saving trees, but not necessarily water or energy. Opting for online invitations is the biggest way to minimise waste. If you still want tangible memories, make sure to use online invites for the save the date, hen party, rehearsal dinner, and post-wedding brunch details. You can also send wedding e-newsletters to remind your guests about important information.
Travel maps and tips, ceremony and reception locations, and transportation information is all very useful to include in invitations, so why not skip the printing and create a website where guests can access all necessary information quickly from their phones or computers (without the waste). There are lots of free website builders to choose from and many have existing templates you can pick to customise your wedding guest details.
Waste & Recycling
Work with your venue, wedding planner, vendors and suppliers in advance to reduce unnecessary plastic waste in terms of beverages, food, the wedding cake, the reception and ceremony set up. Opt for reusable and rentable linens, plates and utensils, and if you do have to use single-use items – ensure they are 100% biodegradable. Use reusable cups and tanks for water, juices, tea and coffee, and provide your guests with reusable cups, straw and utensils at all opportunities.
Work with your venue and planner to set up a waste system, including recycling bins for cans and bottles and a compost bin for biodegradable substances and food waste. Donate your leftover food and flowers to retirement homes, hospitals, homeless shelters, or other organisations that are in need (and open to accepting donations). Also make sure you purchase seasonal flowers from local sources. We love Repeat Roses, which operates in most major cities around the world. Its team will transform your floral arrangements into bouquets for people in need and compost what can't be reused. Or take a further green step by selecting a venue with already existing natural beauty, plants, or foliage and skip adding extra decor.
Catering & Food
When trying to throw an eco-friendly wedding you may want to consider a vegan or vegetarian caterer, dinner menu or brunch location. That's because having a predominantly plant-based menu can help to offset your carbon footprint. Meat is increasingly being highlighted as one of the top reasons for climate change – even more than the transportation industry! Alternative meats such as Impossible Foods and Beyond Burger are a good option for those die-hard meat-eating guests.
Make sure your food options are sustainable and organic (including your cake). Sustainable and organic food production promotes soil health, reduces water contamination by chemical pesticides, and helps preserve wildlife and biodiversity. These farming methods proactively reduce energy consumption and help to preserve earth's natural resources. Plus, they're much healthier for us!
Ensuring your food is coming from local sources and farmers will reduce import transportation emissions. By implementing a farm to table concept, you can build a menu around the seasonality of the food that is grown in the area and integrate perfectly edible foods destined for the landfill.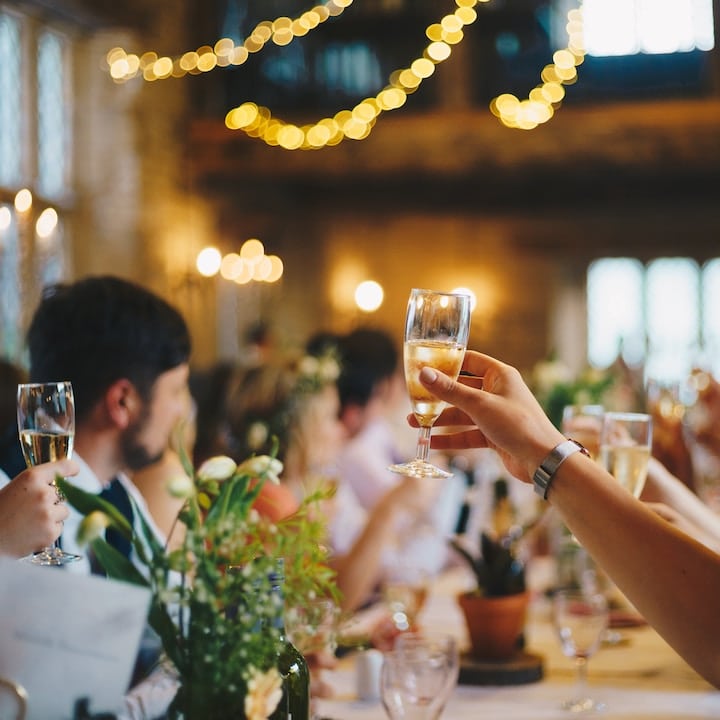 The Drinks
Always choose Biodynamic and organic wines! Biodynamic wine involves viewing the vineyard as a whole organism, while Biodynamic farming aims to leave the land in as good or better shape than it was found for future generations.
Buy wine in bulk and serve beer on tap. Bulk wine is not shipped in its bottle, rather it is shipped in a tank and bottled in the destination country. So lighter shipping is a win for the environment and a bargain for your wallet. For those planning a wedding in the US, we also love Bubble Tap Trailer. It provides a mobile champagne tap service and has multiple trailers throughout the country, making champagne a zero-waste affair. Having beer on tap also reduces your waste significantly.
The Registry
Request cash as opposed to gifts in order to avoid shipping or return costs. Or if you do prefer to set up a registry, choose items from businesses that do good and make a conscious effort to practice sustainability, ethical production practices, and sell eco-friendly/natural goods. You could also get your guests to donate to your honeymoon. Check out the Honey Fund for a fun alternative.
Don't need cash or gifts? Consider asking your guests to make a donation to a cause close to your heart. Whether it's animal campaigns, human rights, or environmental causes the list is endless when it comes to places that could use the funding. Check out So Kind Registry, which is a customisable registry service that makes it easy to create unique and meaningful lists.
The Rings
When it comes to choosing the perfect engagement ring or wedding ring, consider both human rights and environmental implications. Look for companies that use recycled or fair trade gold, silver, and conflict-free diamonds. Support companies that give back to their communities, protect the environment and are certified B Corp.
You may also want to consider consignment, vintage, and antique rings. Not only are these sentimental pieces with a story (often passed down through generations), but antique rings were generally created using recycled materials, repurposed stones and diamonds found prior to conflict mining, making them one of a kind and 100% eco-friendly.
The Dress
Fashion is the fifth most polluting industry in the world, so you can help to reduce your impact by shopping brands that practice ethical production practices, are certified B Corps, or make an effort to reduce their waste and impact on our environment.
Look for a wedding dress, as well as tuxedos and bridesmaid dresses made from organic, sustainable, recycled and repurposed fibres. Dresses made with 100% natural fibres such as cotton, bamboo, eco-silks or lace are great sustainable options. You can also shop dresses made with vintage, fair trade, or deadstock fabrics. Look for brands that use zero waste cutting techniques and local manufacturing or fabrics.
Dresses that are upcycled, handmade, or vintage are an eco win as well. You can also check out consignment or rental shops and get a preloved gown for the big day, and don't forget to donate your dress afterwards if you don't wish to keep it.
Welcome Gifts
Welcome gifts are becoming increasingly common at weddings, particularly if you are having a destination wedding. Pick alternative items with the intention that everything included can be reused or enjoyed again.
Include sustainable items and brands that you believe in and make a point not to include plastic. Make sure all packaging is made from recycled paper, is biodegradable, and always opt for glass if you include beverages, and don't forget to support local businesses at every chance you get.
Get clever by customising a reusable goodie bag and including reusable water canteens, coffee cups, stainless steel straws, bamboo toothbrushes and items that can be reused in everyday life (and hopefully inspire your guests to live more consciously). You can also include body care items that promote zero waste lifestyles like natural soaps and shampoo bars, deodorants and lip care in paper packaging, and even toothpaste capsules. Consider visiting your local bulk store to stock up or find one at your destination and stock up ahead of time.
Another idea is to provide your guests with fresh and out of the oven baked goods, chocolates, olive oils, homemade jams or honey on the wedding day or upon their arrival.
Travel & Transportation
Although it may be difficult if you are having a destination wedding, you can go green by minimising the guest list and travel distances. If this is difficult to get around, here are some tips on how your guests can reduce their environmental impact.
Take direct routes to the destination as take-off and landing is where carbon emissions become a problem, so the less stops, the better. Fly economy and pack light to try to offset your carbon footprint. Don't forget to check out offsetting programmes which are usually available through airlines. For example Cathay Pacific has offset programmes that encourage the adoption of renewable energy and a programme that supports women to improve their livelihood and social position in their community.
Finally set up a carpool system or coach or bus for your guests to get to and from the wedding, to eliminate individual transportation methods. 
Read more: Sustainable Travel Tips: Reduce Your Impact On Our Planet