Traditional culture thrives in Taiwan's oldest city
Planning a trip to Taiwan? Skip Taipei and head South, because we're about to tell you all about Tainan! The oldest city in Taiwan might be known for its temples and colonial buildings but if you're hoping to avoid the crowds, we're unearthing these hidden gems (shhh!)
From hipster B&Bs, night market eats and local street art to the oldest department stores in Taiwan, here are some of the coolest things to do in Tainan…
Hidden Stays
Laile
Lai Le in Mandarin literally means 'came', an implication of someone's arrival. If traditional accommodation with a homey touch is what you're looking for, then Laile will not disappoint. Located inside a small lane in central Tainan city and within walking distances to the coffee shops, art galleries and popular little eateries in the area, Laile is perfect for those who want to explore the local streets of Tainan while having their own space inside the B&B's garden and café.
The café on the ground floor is minimalist in interior design and you will find traces of (totally instagram-worthy) vintage items. There is a lush little garden inside the café, perfecting for chilled mornings and breakfast, which includes freshly baked pastries, Taiwanese egg pancake, fresh seasonal fruits and bacon and cheese omelettes… all complimentary with your stay!
Another special thing about Laile is its themed rooms. The eight available rooms are decorated with flowers, a dancer, a travel writer, an artist, a photographer, a musician, etc. The owner (an interior designer) is inspired by people with different occupations and backgrounds who cross paths in life, and would like share this delicate connection through his design.
Sassy Tip: The most popular rooms are Room Type A (florist-themed), which has a beautiful backyard attached to the room and Room Type B (musician-themed), with a balcony overlooking the old alleys of Tainan City. Now you know which ones to choose when you make a booking via Airbnb!
Hidden Eats
No visit to Taiwan is complete without indulging in a mouthwatering array of street food. Tick that off your travel checklist with a jaunt to Guohua Street. Situated in Tainan's West Central District, this street offers plenty of opportunities to gorge.
Chun Barley Dessert
Chun is a popular dessert place among locals, and if you're a fan of anything matcha and red bean, you'll find yourself ordering everything from the menu. The main theme across the desserts is barley which comes with other side ingredients, such as matcha ice cream and red beans paste. Yum.
Chun Barley Dessert, No. 5, Lane 16, Sec. 3, Guohua Street, Tainan, Taiwan
Jiang Chun
Jiang Chun is known for its braised pork rice, one of the most commonly found street foods in Taiwan. Braised pork rice usually comes in a small bowl and can be quite filling with its thick sauce. Unlike the braised pork rice in Taipei, Jiang Chun adds a twist on traditional flavours using coriander on top of rice, then followed by the braised pork and sauce.
Jian Chun, No. 19, Section 3, Minzu Road, Tainan, Taiwan
Xiao Man Shi Tang
If you fancy homemade Taiwanese food, then Xiao Man Shi Tang is a home-style diner you can't miss. Located inside an alley, this bistro delicately prepares just one set menu for a fixed price. The menu usually includes an appetiser, a soup, main course and a dessert, changing once every two weeks.
Xiao Man Shi Tang, Behind the building at no.47, Section 3, Guohua Sreett, West Central District, Tainan City, Taiwan (enter from Alley 61 Zhengxing Street)
Sun's Great
Brunching in Tainan couldn't get any better than at this trendy hostel-café. Nestled next to Anping Old Street, Sun's Great serves a delicious selection of sandwiches (affectionately named 'Sunwiches') prepared with beef, pork or chicken. Each 'Sunwich' is served with potato corn soup and a steaming cup of earl grey tea. The café is also decorated in a lovely combination of rustic and retro influences, providing a homely atmosphere fit for both a hearty meal with friends and some 'me time.'
Sun's Great, No.30-1, Xiaozhong St, Anping Dist, Tainan 70842, Taiwan
Hidden Sites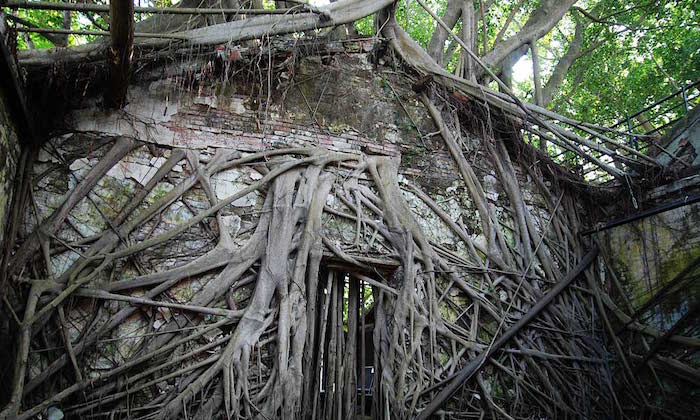 Anping Treehouse
Although not technically a hidden gem, Anping Treehouse is a must-visit for anyone visiting Tainan. What used to be an old warehouse for Tait & Company and the Japan Salt Company is now occupied by enormous banyan trees. It is a pretty interesting place to be and not at all what you'd imagine when you think of a 'treehouse;' it becomes like a maze as you walk deeper into the house and you'll find yourself surrounded by enormous branches.
Anping Treehouse, No.106-108 Gubao Street, Anping District, Tainan, Taiwan
Hayashi Department Store
If there is one place in Tainan that you absolutely have to shop at, it will be Hayashi Department Store. This department store opened in 1932 is currently the oldest department store in Taiwan. The best part is the cultural merchandise that it offers – from local designer brands to Tainan records, you can definitely find souvenirs for everyone here.
Sassy Tip: For some travelers, Hayashi Department Store might be more of a glimpse into the Japanese Colonial Era than just a souvenir stop as it still preserves elements of its history as exhibitions. Spot the original floor tiles on some levels, or visit the ruins of the rooftop Shinto Shrine (where you can get a view of the Tainan cityscape).
Hayashi Department Store, No.63 Section 2, Zhongyi, Tainan, Taiwan
Chuan Mei Theater
In this age of multiplexes and 3-D projection, the Chuan Mei theater in Tainan is a reminder of movie experiences way back when. You'll come across hand-painted posters of the latest Hollywood movies hanging above the entrance, a life's work of 61-year-old Yan Jhen-fa, the last practitioner of this once-popular art form in Taiwan. This cinema is old school down to the tickets and theater seats. Instead of computer-generated tickets and plush-sofa-like seats, patrons are given hand-stamped pieces of paper indicating the time of their performance and seated on simple metal chairs. A unique cinema experience not to be missed.
Chuan Mei Theater, 187 Yong Fu Road, Sec. 2, West Central District, Tainan City, Taiwan