It's no secret that us Sassy girls like to be pampered. We especially like it when we get to be pampered together, which is exactly what we got the chance to do at a recent private party organised for us by Spa L'OCCITANE.
Nestled along Star Street in Wan Chai, Spa L'OCCITANE is – as you'd expect – a natural extension of the acclaimed French skincare brand. With the interior design of the spa inspired by Camargue, a remote, peaceful area in southern Provence, the space offers an authentic, tranquil urban escape.
With the ability to tailor private events to suit different group sizes and occasions, the Spa L'OCCITANE team welcomed us in true Sassy style – champagne (yes!), macarons (yes!) and tray of handcrafted cupcakes (yes, yes, yes!). Although we got things under way by indulging in a few sweet treats, our night centered on slimming and reshaping – it's all about balance, people!
Immersed in the incredible smells of essential oils and aromatic natural ingredients, Spa L'OCCITANE's team of experts talked us though what Hong Kong lifestyle factors affect our shape and how best to navigate them i.e. making tweaks to our diet (including the horrifying calorie count of mango sticky rice and instant noodles!), easy exercises (who knew that doing the housework burns through practically as much energy almost as yoga?) and what sort of body treatments to invest in.
From there, we took part in a mini Almond Body Care workshop. Using some of the reshaping range's hero products – Almond Beautiful Shape (a lightweight, delicious smelling gel-cream) and Almond Shaping Delight (a melting gel that helps to stimulate collagen production and tighten skin) – we were taught how best to apply the products and even practiced different reshaping massage techniques on ourselves. While we had a few giggles along the way, it was genuinely amazing how much we all learnt when it came to product application.
The evening culminated in the team each being treated to a 60-minute Almond Silhouette Reshape body treatment. Before the treatment began, a 'welcome ritual' footbath was performed with Aromachologie Effervescent Sugar Cubes. By the time this was complete and I'd relocated to the treatment bed, Wan Chai felt a million miles away. The Spa L'OCCITANE treatment rooms are spacious and rustic, and I couldn't hear any noise from either the street below or the spa's reception area.
Spa L'OCCITANE focuses on hand-performed treatments rather than machine methods, and traditional massage techniques instead of technologies, drawing inspiration from techniques practiced around the world. The Almond Silhouette Reshape treatment combined draining massages with the contouring and slimming properties of the almond proteins and essential oils. While incredibly relaxing, the 60-minute massage is specialist and targeted and we definitely felt a bit lighter and more limber by the end; nothing felt painful, however, the pinching portion of the massage was definitely a little bit "different" (and a few members of the team found it rather ticklish too)!
All in all, it was an absolutely divine night. With a few baby showers and engagement parties on the horizon within my circle of friends, I left Spa L'OCCITANE feeling inspired to arrange another celebration with them sometime soon!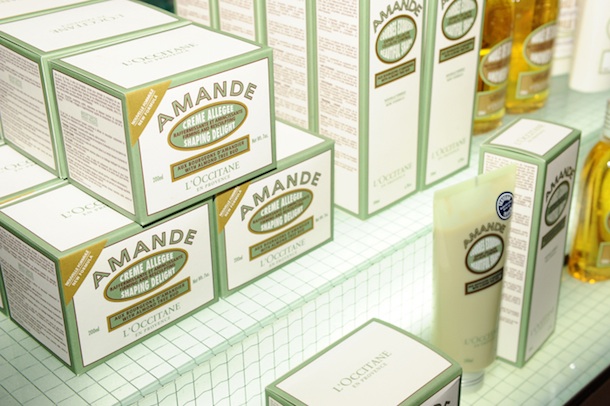 SPECIAL SASSY OFFER: Get your mitts on this special Spa L'OCCITANE Almond Package for just $1,350 (it should originally cost $2000), including:
–          1 Provencal Detoxifying Cure (a 90-minure scrub, wrap & massage)
–          1 retail size Almond Beautiful Shape cream
–          1 retail size Almond Shaping Delight gel
Simply drop your details in the form below and we will send all the info on how to redeem the offer straight to your Inbox:
To organise your own private event at Spa L'Occitane, give them a call on 2143 6288; check out our full review of Spa L'Occitane here
Spa L'OCCTAINE  Shop No.3, Star Crest, 9 Star Street, Wan Chai, Hong Kong
2143 6288  www.hk.loccitane.com/…