Not only did Eat, Pray, Love by Elizabeth Gilbert inspire my journey to Hong Kong, it has also been the guide to how I've tried to live my life while here. I've taken many of Gilbert's words and experiences to heart and set my own path to happiness. One such experience is the recent trip I took to Bangalore, India to partake in a yoga retreat at Shreyas Resort. Forget hello, forget handshakes or kisses on the cheek, you're now submersed in the world of Namaste, head nods, and downward facing dogs.
As I stepped out of the airport, I was greeted by a prim, well-mannered driver whose car was equipped with a refreshing lemon-scented towel and cool water bottle. Through the winding and bumpy roads, we journeyed for an hour in order to reach the Shreyas Resort (a round trip to and from the airpost costs USD$150 booked through the resort). We drove through villages and past a set of unassuming gates, only to be enveloped by serene beauty: polite staff, cobblestone pathways, bamboo and frangipani clusters, and lots and lots of nature. I don't think I'm in Kansas (Hong Kong) anymore!
Scoop up your favorite yoga studio in Hong Kong, keeping the best instructors and a handful of members, set it in the middle of the Indian countryside and you'll have found Shreyas. I was awakened by roosters crowing at 5:30am… which proved to be the perfect way to wake up because my first class was at 6:30! This was yoga Cinderella-style (pre-Prince Charming): yoga with the birds chirping and helping to make the best darn dress for the ball… errrr…or in this case making the most relaxing yoga experience possible!
After a very individualized group session (no it's not an oxymoron, there were only three, count 'em, three students in the class), we all headed to breakfast, which was a yummy mix of fresh fruit and Indian creations. All of the food at the resort is vegetarian and homegrown right on the resort. A picky eater myself, I wasn't quite sure how I'd find the meals, but everything was made with such care and there was a great variety in the dishes. Not that I wanted to at 7:30am, but along with no meat, there's also no alcohol or smoking allowed in order to bring out the best you.
Following breakfast, I really enjoyed the meditation session, where the instructor's guiding words helped us to first focus on the outside world and sounds, so as to acknowledge them without allowing them to distract you during the meditation. Then, he instructed us to focus on each part of our body: the nostrils, the navel, the upper lip, etc. drawing our breath and our attention to each. After that, we did a few chants and in true Eat, Pray, Love form, we recited the ham-sa line. Before I read Gilbert's book, I always had a difficult time focusing during shavasana time; Gilbert explained her same quandary during her visit to an ashram, eventually finding focus by continuously repeating ham-sa with each inhale and exhale respectively. I took her sage advice and brought it into my own practice; I found that the repeated usage of the two syllables, meaning "I am that…", helped me to also focus on myself, which proved true for me during these meditation sessions where I completely lost awareness of anything but the words and my breathing.
When the time was complete, the instructor explained that meditation is used to prevent parts of ourselves that don't allow us to become the best we can be. And that in the world, we can't fix anything but ourselves so we should learn to be aware of how to make us better which will in turn make the world better. For these reasons, I can't wait to find meditation classes back in Hong Kong!
Because you can't be yoga-ing 24/7, there are many other things to do around the resort, including lying by the pool, sweating in the sauna or Jacuzzi, perusing the vast library, venturing around the 25 acre resort, planning a city visit, indulging in a massage, or getting sunburnt. Since I usually try to avoid sweating as much as possible, a few of these were immediately forgotten; I did quite enjoy the gardens and, of course, the fabulous massages. I had my first Ayurvedic massage here and there aren't enough adjectives to describe how much I loved it: luxurious, simply divine, to die for, sensual, the best massage I have ever had.
Even though I was only at the resort for three days (stays are available up to 30 days if you're truly self-indulgent), I did find time to take a village visit where I walked through the weekly vegetable market full of vibrant colours, fresh food, animals for sale, and gorgeous ladies in stunning outfits; I also visited a temple where they were preparing for a festival and walked through the streets and shops of the town.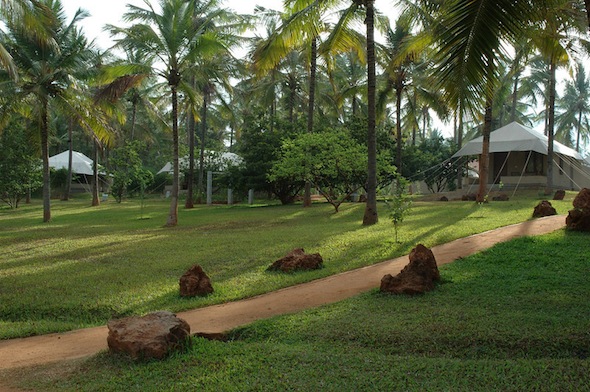 Often named as one of the world's best spas and yoga retreats in the world, Shreyas has visitors from all around the world, many of whom travel from the UK. Up to 25 people can attend at once, each with an individualized retreat plan, including your choice of a focus on yoga, wellness, weight loss, a silent retreat, culinary adventure, and/or community service. Even classes are personalised; for example, I say I have tin hips, they say "Here's oil from the City of Oz… now do pigeon pose!"
Because of the attention to you and to every little detail, many aspects of Shreyas are simply wonderful, but there are some downfalls including the loneliness of it all. It is very relaxing to not have to worry about anyone else and there are other guests in attendance, but I just kept thinking about how much more fun this would be if my boyfriend or my girlfriends were there, just to have someone to talk to, make a plan with, etc. It's difficult for the Type A planners out there (myself included!) because there isn't always a set schedule; giving up control and actually having to find things to do by yourself is slightly daunting (though for many, this may be the best bit). Also, if you're a city girl at heart, being at one with nature may be hard – those gnats flying around your face during class can be bothersome!
Cost is another factor that most people will need to consider before booking the first ticket to Bangalore. Flights can be direct, but can be costly; even one-stop treks cost a fair bit. There's also the India visa to contend with which can be upwards of HKD$1000, and the resort itself costs a minimum of USD$200 a night.
I have a few other recommendations to make this trip the best yoga retreat you'll ever attend. First, come with a friend or significant other, especially if you're not the type of person who enjoys reading a magazine by the pool for the over 20 hours of free time you have a day. Next, choose your dates wisely as it's super hot in south India for many months of the year and they have a wicked rainy season during the summer. Don't forget your comfy clothes for the at least two-a-day yoga classes; even though classes are customised to your skill level, at the very least you should have taken a few yoga classes beforehand in order to know the basics and become familiar with the terms.
Overall, Shreyas is a wonderfully relaxing place – just the type of place a girl-on-the go needs to find both inner peace and total relaxation. Its attention to detail – including the fresh towel when I arrived, the personalised meditation and yoga classes, and the care package given to me for the plane ride home – are what make it spectacular.
SASSY DEAL: Quote Sassy Girls Special and received a complimentary 60-minute Rejuvenation Massage!
Shreya's Retreat, call +91 80 2773 7102 or book online here