Looking for the best wedding cake in Hong Kong? Whether you're after a custom-made cake, a gluten-free or vegan option, or an alternative idea, we've got your special day dessert covered.
A wedding cake is the sugar-coated landmark to your special day. We know how important it is to make sure all your guests are left well fed, and your celebratory cake is the banquet finale. So, once you've decide on the venue, photographer, catering company, wedding dress and wedding planner, picking a cake will be, well, a piece of cake. Aside from deciding on a honeymoon location, the tasting may just be your favourite part of the planning process. Whether you want a classic cream sponge to put Michelin chefs to shame or a bespoke rustic creation, we've made a list of the the best wedding cakes in Hong Kong.
Read more: The Best Cupcakes in Hong Kong
Jump to
Custom Wedding Cakes
Gluten-free and Vegan Options
Alternative Wedding Cakes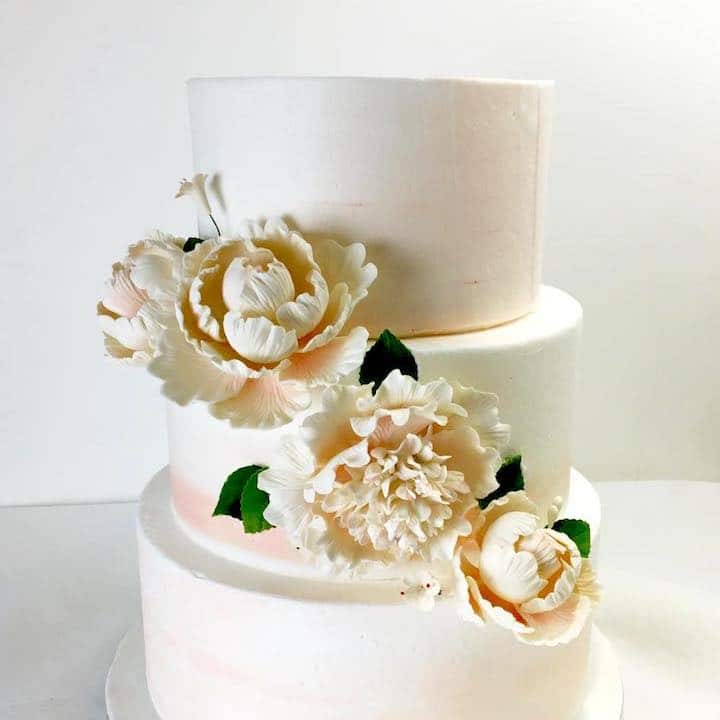 Custom Wedding Cakes
Craft Cakes and Confections creates the most beautifully customised, modern wedding cakes that play with nostalgic classics and elegant twists. With the freshest quality ingredients, the experts here focus on creating a well-balanced flavour and texture profile. We can completely vouch that the each cake strikes the perfect balance of creamy, light, sweet and stunning. Everything is personalised to make sure you get the look and taste you deserve. Pick between the theme or style, the number of tiers, the colour scheme, and the flavour (including everything from a vanilla bean cream sponge, to fresh berry, earl grey, or cookies and cream). The founder, Janice Ho, is a pleasure to work with, and she's open to accommodating every need to fit within your dream style and ideal budget. You can expect a selection of cake stand options, helpful recommendations, thoughtful finishing touches and delivery all taken care of.
Price: Prices vary, so be sure to get in touch for more info. 
CRAFT, admin@craft.com.hk, www.craft.com.hk

Sugar Me HK
Sugar Me creates sculptural works of art, so if you're after a show-stopper, then look no further. Your cake will come alive with these whimsical designs and intricate details. From four tier spectacles to sugar sculptures, Sugar Me HK knows no boundaries when it comes to a design brief. The flavours vary from a classic vanilla to dark chocolate mud cake with chocolate ganache. Cake sizes range from 4″ to 10″, so Sugar Me HK can accommodate a whole army of hungry celebrators.
Price: Prices vary, so be sure to get in touch for more info.
Sugar Me HK, www.sugarmehk.com, Tel: 6110 8967
Born and raised in Hong Kong, Penney moved away from her job as a Chartered Accountant towards a career in baking. After various bakery and sugar craft courses in Hong Kong, the United Kingdom and Australia, she began her journey of handcrafting wedding cakes, and has never looked back. You can expect her professional expertise and accommodation to be an extra bonus to the decadent desserts.
Price: Prices vary, so be sure to get in touch for more info.
Penney Pang Designer Cakes, www.penneypang.com
This spot can have simple wedding cakes done within two weeks and offers you the unique chance to mix and match flavours for your cake, whether you want a cupcake stand wedding cake or a six-tiered statue.  If you'd rather leave the tasting to the pros, you can try one of the recommended flavour combinations like Strawberry Short Cake (vanilla with a strawberries and cream centre).
Complete Deelite, 2/F, On Lan Centre, 11-15 On Lan Street, Central, Hong Kong, 3167 7022, www.completedeelite.com
We're still floored by Cake2's life-size wedding dress cake (complete with a bridal train). Despite the decadence, these cakes are renowned for lightness. Whilst it's more than willing to do cakes for other occasions such as birthdays or work functions, it's a specialty wedding cake bakery through and through.
Cake2, Shop 1, G/F, Victoria Court, 2A Tsing Fun Street, Tin Hau, Hong Kong; Unit G29, G/F, Peninsula Centre, 67 Mody Road, Kowloon, Hong Kong, 2947 7575, www.cake2.com
This PMQ-based bakery is passionate about creating unique cakes made with love, finesse and the finest ingredients available. Whether you're after a fun wedding cake or something more elegant, Phoenix Sweets is able to whip up the sweet creation of your dreams. With options such as traditional buttercream cakes to more unusual, artisanal creations (the Amethyst Cake is particularly stunning), it's hard to go wrong with this cakery!
Price: Smaller cakes price at $380, while larger cakes start from $1,000
Phoenix Sweets, www.phoenixsweets.com, shop.phoenixsweets.com, order@phoneixsweets.com , Tel: 3686 0915

We can completely vouch for this one! Its aim is simple: to make your "inner foodie squeal in delight." This bakery works by combining classic flavours and ingredients, and mixing them with whimsical florals and a wide array of bits and bobs (think gold foil and galaxy swirls) to ensure that every cake is its own piece of art! The floral designs are truly #instagoals. Ideal for smaller, modern weddings with a contemporary touch.
Price: Small cakes start from $800, and larger cakes from $1,500
Bakes by Tania, www.bakesbytania.com
Whipping up bespoke creations for any occasion, Vive caters to those who want a truly one-of-a-kind wedding cake. With flavours such as Yuzu Meringue, Rose Penelope (made with rose, lychee and raspberry mousse) and Oreo Galaxy, its cakes are creative and ideal for celebrations of all kinds.
Price: Celebration and custom cakes start from $500
Vive Cake Boutique, Shop 3, 1/F, 80 Queen's Road Central, Central, Hong Kong, www.vive.hk, www.facebook.com/vive.cake, www. order.vive.hk, Tel: 9602 2869
Vive Cake Boutique, Basement Shop 05-06, Lee Tung Avenue, 200 Queen's Road East, Wan Chai, Hong Kong, www.vive.hk, www.facebook.com/vive.cake, www.order.vive.hk, Tel:5111 4895
Three friends with a passion for baking came together and created The Sweet Tooth Fairies. Its whimsical cakes are completely customisable for every treat lover, and are appropriate for brides looking for a thoughtful bespoke touch. The beautiful designs, made from buttercream and fondant can be customised based on your wedding theme.
Price: Prices vary, so be sure to get in touch for more info.
The Sweet Tooth Fairies, Unit 19, 8/F, Block A, Hoi Luen Industrial Centre, 55 Hoi Yuen Road Kwun Tong, Hong Kong,www.hirelyevents.com/vendors/the-sweet-tooth-fairies, tstfhk@hotmail.com, Tel: 81999 687
Mrs B's wedding cakes are the epitome of elaborate. From handcrafted sugar decorations to premium European chocolate, Ms B's Cakery takes you straight to pastry heaven. Be prepared to be dazzled by the elite level of these beauties. The specialty cakes are truly mesmerising works of art, but the real showstopper has to be the Madame Butterfly. You know it's a Ms B's when you see a fluttering butterfly gently balancing on the top of a cake, and if that isn't enough, ingredients such as pistachio, chocolate chiffon and apricot compote should tempt your taste buds.
Price: Signature taster size cakes range from $40-$60 per piece, whereas custom and larger cakes start from $1,000 (you may need to call ahead for availability and lead times)
Ms B's Cakery, various locations across Hong Kong, Tel: 2815 8303, www.msbscakery.hk
Gluten-free and vegan options:
Who couldn't be wowed by a 12-year-old who decided to make his love for cupcakes his passion? A true passion project, this mother-and-son team bake from the heart and its show-stopping creations will satisfy any and all cravings. Needless to say, we're big fans of Baking Maniac (Ankrish even made cupcakes for the Sassy team for Christmas one year!). I've tasted my way through a fair share of these desserts, and you can expect a seriously extensive range of flavours (Masala Chai, Chilli Bomb, Mars Bar, just to name a few) customisable cake pops, and more.
Price: Prices vary, so be sure to get in touch for more info.
Baking Maniac, 5C, Kwai Bo Industrial Building, 40 Wong Chuk Hang Road, Hong Kong, www.bakingmaniachk.com, www.facebook.com/BakingManiac, Bakers@bakingmaniachk.com 
Calling all health-conscious cake-lovers! The Cakery was conceived by passionate baker, Shirley Kwok. These gourmet, guilt-free, allergy-friendly wedding cakes can be made gluten-free and dairy-free, made with wholewheat flour, and are low in refined sugar. Sound like you'll be sacrificing flavour? Wrong! These (basically) taste the same as the sugar-stuffed ones! Who said you can't have your cake and eat it too?
Price: Gluten-free cupcakes start from $20 per piece; signature cakes start from $480; bespoke cake prices vary, so be sure to get in touch for more info.
The Cakery, Shop 303, The Landmark, 15 Queen's Road Central, Central, Hong Kong, Tel: 6683 3833, www.thecakeryhk.com
The Cakery, Shop 124, Lee Garden Two, 28 Yun Ping Road, Causeway Bay, Hong Kong, Tel: 2816 1838, www.thecakeryhk.com
For a small wedding affair, these paleo goodies are worth checking out. All of Bad Food Gone Good's products are fresh, made-to-order and best of all, completely guilt-free! Curb your cravings and celebrate with a wide range of gluten-free, dairy-free, refined sugar-free and flourless goodies – without sacrificing on flavour.
Price: Creamed decorated cakes start from $600 (sizes range from 6-8 inches)
Bad Food Gone Good, order@badfoodgonegood.com, www.badfoodgonegood.com

Specialising in unique hand-made birthday cakes, The Kitchen Faerie crafts Instagram-worthy sweet treats that have the camera eating first. Alongside regular cakes, gluten-free versions can be made by request, so don't hesitate to send an email and see what The Kitchen Faerie can magic for your big day.
Price: Prices vary, so be sure to get in touch for more info.
The Kitchen Faerie, Tel: 9688 6329, kitchenfaeriehk@gmail.com, www.facebook.com/kitchenfaeriehk
This rustic gluten-free cake shop has quickly become a SoHo staple and the custom-made wedding cake section does not disappoint. With its dairy-free and vegan options, you can expect the ideal combination of flavours through the signatures such as double Earl Grey and strawberry shortcake. The ingredient-driven establishment is allergy-friendly and has something for everyone. If you're keen for something other than a cake, batches of tarts and chiffon cupcakes are also available.
Price: Prices vary, so be sure to get in touch for more info.
Sweetpea Café, 4 Shin Hing Street, Central, Hong Kong, Tel: 3689 7269, www.facebook.com/SweetpeaPatisserieHK
Formally Tête-à-Tête, VeganBoo Bakery is on hand to bake whatever you need! From cupcakes and cookies to custom-made wedding cakes, it will happily adjust the recipe to adhere to any sugar and gluten-free dietary requirements whilst still tasting and looking just as you hoped.
VeganBoo Bakery, Tel: 5718 4635 (WhatsApp only), www.facebook.com/veganboo.hk
Alternative Wedding Cakes
Add a splash of colour to the wedding table with macarons. This pastry chef sure knows how to add flavour to these "jewels" of confection, and a tower of flowing macarons will have any French patisserie-lover drooling. We're especially loving flavours like the sea salt caramel or the passionfruit almond cream. It also provides a limited offer list if the signatures weren't enough to tantalise your tastebuds.
Price: Little Miss Macarons require a minimum of 4 weeks notice and minimum order $1,000 per purchase.
Little Miss Macarons, www.littlemissmacarons.com, Tel: 9862 6635, info@littlemissmacarons.com
For the cupcake lover, create a cake stand of cupcakes in a variety of flavours for your wedding day, and save on the cake plates and cutlery (just an idea!). When the words S'mores & Oreos appear on the same menu you just know the entire party will leave smiling and stuffed. Its central kitchen churns out (on average) thousands of cupcakes a day, so its craft has definitely been perfected! Even after years, the red velvet is our go-to.
Price: Individual cupcakes start from $29, but bespoke cake rices vary, so be sure to get in touch for more info.
Sift, various locations across Hong Kong, Tel: 2870 3887, www.siftdesserts.com
If you're looking for something indulgent but different, an ice-cream cake ticks all the boxes. Whilst Emack & Bolio's is known for outrageously good sundaes and delicious scoops of creamy ice cream laden with toppings, but it also creates incredibly moorish ice cream cakes. Order in advance for your big day and pick from flavours like Chocolate Peanut Butter Cup and Peach Melba to Beantown Buzz and Vanilla Chocolate Flake.
Price: 2lb ice cream cakes from $459
Emack & Bolio's, 26 Cochrane Street, Central, Hong Kong, more locations here,  2505 6626, www.facebook.com/emackandbolioshk, www.emackandbolios.com.hk
Read more: The Best Ice Creams in Hong Kong
Seeking a show-stopping rose-shaped cake? Look no further than Patisserie Tony Wong, where you can find stunning rose-shaped cakes in a variety of flavours and colours, in addition to an extensive range of classic wedding favourites. With four locations, more than 40 years of experience, and seemingly endless awards, quality and passion are guaranteed at this patisserie.
Price: Individual taster-size cakes start from $50 per piece; whole cakes start from $350
Patisserie Tony Wong, various locations, patisserietonywong.com, www.facebook.com/PatisserieTonyWongofficial, info@patisserietonywong.com

Looking for a sweet treat alternative? If frosting and flour aren't up your street, Feather & Bone offer unique cheese 'cakes' that are a sumptuous, savoury option for special occasions. The cheese wheels change according to season, but we can guarantee that this unusual centre piece won't disappoint cheese lovers on their wedding day.
Price: A Mini Cheese Tower is priced at $316 (4-6 pax); Cheese Tower Tabor (20-40 pax) $2,800
Feather and Bone,
Winner Building, 11 Wong Nai Chung Road, Happy Valley, Hong Kong, Tel:  2836 3789, www.featherandbone.com.hk
G/F Bohemian House, 321 Des Voeux Road West, Sai Ying Pun, Hong Kong, Tel: 3705 0280, www.featherandbone.com.hk
(Deli and Butcher), 18 Gage Street, Central, Hong Kong, Tel: 2325 8570, 2325 8570, www.featherandbone.com.hk
Editor's Note: This post was originally published in August 2014 by Team Sassy and was updated in August 2018 by Tania Shroff.
Featured Image via Getty Images, Image #1 credited to Craft, Image #2 credited to Bakes by Tania via Instagram, Image #3 credited to Complete Deelite, Image #4 credited to Baking Maniac, Image #5 credited to The Kitchen Faerie via Facebook, Image #6 credited to Little Miss Macarons via Instagram, Image #7 credited to Feather & Bone via Instagram