An Oasis in the Clouds

With Hong Kong notorious for its unpredictable weather and now that we're slipping into cooler climes, if you're anything like me, your skin is calling out for a little TLC. So I was over the moon to find out that The Ritz Carlton Spa has recently launched their newest spa concept, complete with a brand new menu and three additional treatments using products from international brands; MDNA SKIN, NuBo and 111Skin. And luckily for me (and my skin!) I got to enjoy an indulgent afternoon testing out the NuBo Velvet Red Carpet Facial…
The Spa
Situated on the 116th floor, The Ritz Carlton Spa, Hong Kong sits proudly amongst the clouds as the world's highest hotel spa, and from start to finish my experience was pure luxury and total relaxation!
From the minute I arrived the staff were attentive and pleasant, offering up some tea before showing me into the gorgeous changing rooms. Complete with a sauna and steam room, I could have stayed there for hours, but instead I slipped into my soft robe and slippers and made my way to the adjacent relaxation room to enjoy the killer views and await my facial. And once in the (very aptly named) relaxation room, I found myself presented with sweeping views of HK and was more than happy to sit back and soak in some much needed vitamin D, which was pouring in through the floor to ceiling windows. Again, I could have easily sat back with a magazine or a good book for the long haul, but it was time for my facial…
The Treatment
Every treatment at The Ritz Carlton starts with a consultation, allowing you the chance to highlight any problem areas or issues which you may want to target during your time. As a result of the cold weather, my skin has been looking seriously dry and dull, so I was ecstatic to hear that my facial was going to include a special White Diamond Ice-Glow Mask from Nubo, which promised to redefine my facial contours and instantly rehydrate my poor old skin.
As an added bonus, all signature treatments at The Ritz Carlton start with a foot soak and exfoliating treatment; a nice touch to start the pampering and allow the facialist time to talk through the facial and the products used. At this stage my therapist also asked if I would like any extraction to be included in my treatment – I happily agreed in the hopes to clear up some problem areas on my skin, but as it's entirely optional, it's the perfect chance for those who hate this stage of any facial to avoid it early on! Feeling completely relaxed, I then moved over to the (heated!) massage bed as the lights were dimmed, shutting out the world below.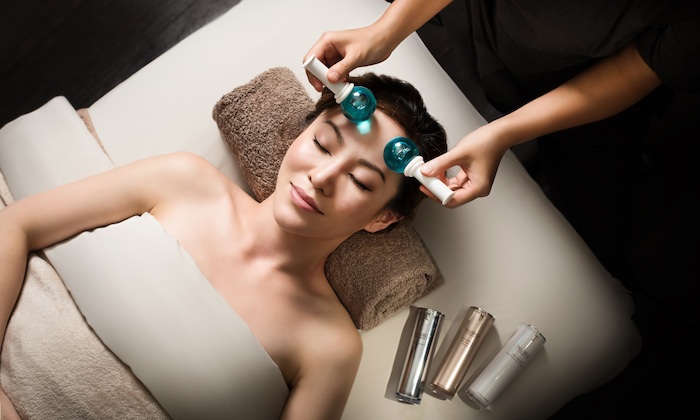 My Velvet Red Carpet Facial begun with a stimulating exfoliation and polishing treatment followed by a face, neck and chest massage; before NuBo's special mask was applied. This had a lovely cooling sensation, which instantly made me feel that my skin was being refreshed.
My treatment then continued with a scalp massage, where special kneading techniques were applied onto stress-melting points to soothe soreness (at this point I near enough fell asleep, even though scalp massages usually make me seriously cringe). My time then came to an end with a special peel-off mask, applied to my neck and decolletage – the perfect thing to get any girl party ready and set to wear that off-the-shoulder dress this season.
Finally an SPF rich stimulating moisturiser was applied to my face before I was slowly welcomed back into the world of the living as the lights gently brightened and my bed lifted me into a seated position. I then enjoyed another quick pit stop in the relaxation room before reluctantly leaving my haven in the clouds and heading back down to bustling Kowloon.
The Results
I think I quite literally floated out of the spa; all smiles, bright eyes and beautifully glowing skin – I even felt confident going makeup-free on way home (which is really saying something!). The whole experience was so luxurious and relaxing, with the benefits instantly showing on my skin. As the treatment is aptly named "The Red Carpet Facial" it's the perfect thing to indulge in before a big event to give you the most gorgeous glowing and hydrated skin, or it would also be a very welcome treat after a long haul flight to instantly refresh yourself and your skin!
Nubo Velvet Red Carpet Facial, 90 minutes, $2,080 (Monday to Thursday) / $2,180 (Friday – Sunday and Public Holidays) plus 10% service charge.
The Ritz-Carlton Spa, Hong Kong, 116F, The Ritz-Carlton, International Commerce Centre, 1 Austin Road West, Kowloon, Hong Kong, Tel: 2263 2263, www.ritzcarlton.com/spa