Due to my tall stature I tend to slouch terribly, so when an invitation to trial a massage at Ayurveda Day Spa landed in my inbox, I was out the door before you could say masseuse. I've had my back pummeled in Thailand, been bent out of shape in Bali and endured deep tissue torture in Dubai and thought it was high time to try something a little bit more relaxing. I had trouble finding the spa, as despite being centrally located in the heart of Soho, (just up the steps beside the escalator on Elgin Street) it's tricky to pinpoint, so keep those eyes peeled!
Once inside, the first thing that struck me was the green, clean interior and how quiet it was. Tiled mosaic style floors and copper style bowls in the far corner created a little sanctuary for pedis, and the manicure station in the back was neat and tidy. I was greeted with a big smile from Sarika the owner who made me feel at ease immediately. She invited me to sit down on the plush sofa and walked me through the variety of massages on offer while I sipped some soothing tea. The massage menu was very comprehensive covering everything from slimming and toning to post and pre natal services and it was hard to choose which one I wanted most!
Sarika suggested I try out the 90 minute Ayurvedic signature massage complete with warm medicated oil and hot stones. It sounded very therapeutic and she convinced me it would help to loosen up any tension I had around my neck and shoulders. She brought me to the treatment room complete with a heated massage table and put on some relaxing music to help me unwind. I find it very difficult to relax and usually have my iphone super-glued to my hand 24 hours a day so she had her work cut out for her!
Beginning with my upper back, firm pressure was smoothly applied to areas full of tension and after about five minutes everything began to melt. The warm oil really added to the experience and it felt as though an envelope of heat was being wrapped around my body. I was snug as a bug in a rug on that bed and it would have taken an army to move me at that point! Sarika worked her magic from the top of my head to the tip of my baby toe until every square centimetre was accounted for.
I was apprehensive about the stones being incorporated into the treatment, but the quick rubbing action with warm but not piping hot stones was actually the highlight of the massage! When I asked Sarika to focus on my upper body she did just that, and between the heated bed and the hot stones my shoulders and neck were restored to life. I always thought that deep tissue massages were the treatment of choice for tension and stress, but the Ayurvedic remedy was slowly changing my mind.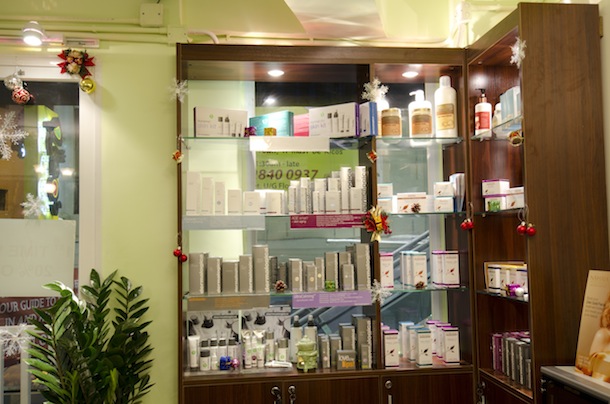 Curiosity overtook and I began asking Sarika as many muffled questions as I could while face down on the table. Turns out that this method has been used for many centuries in South East Asia, and it is excellent for boosting circulation, and eliminating toxins and stress. I loved every minute of it but what really sold the experience was Sarika herself. She is an expert in her craft, knows how to untangle knots without causing pain, and has an uncanny knack for administering pressure with strong solid strokes that relax and relieve tension at the same time. The Ayurveda Day Spa offers a snippet of serenity in the heart of Soho, so next time you're heading home up the escalators stop off at Elgin Street and treat yourself… go on you know you want to!
Ayurveda Day Spa  /F, 49 Elgin Street Soho, Central, Hong Kong
2656 2000  www.ayurvedaspa.hk