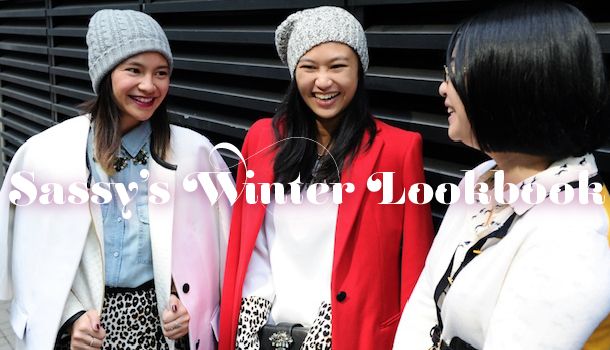 Yet another winter season is upon us and we are more than happy to welcome it to the Kong! In prep for these cooler temps, we have hit up preview after preview to see what the trends and styles set to hit stores for this season would be… and one collection that left us clamouring for our credit cards was the Club Monaco FW13 spread. I enlisted the help of Team Sassy to show you just how wearable this range is and how you can amp up your everyday style with the help of these CM goods!
WOW AT WORK

It's no surprise that Club Monaco offers a full range to suit almost any office environment. We wanted to take your basic ol' office duds to the next level with colour, texture, and a little layering!
Simran: Paola coat $3990, black shirt with embellished collar $1690, floral skirt $1290, snake print clutch $2390, fringe necklace $1590
Sassy Mama Sales & Marketing Manager Simran shows us how to win over the clients with this blue coat; we then teamed it with a basic black blouse with a lovely embellished collar that pairs perfectly with this floral skirt. She stashes those ever-important business cards in this chic snake print clutch, and is ready to dash off to her next meeting!
Gaby: Greyhound print shirt $1380, skirt $1690, colour block cardigan $1290, belt $1290, handbag $4990, angel wing necklace $990
Our Graphic Designer Gaby will cure you of your 'case of the Mondays' with just one glance at her quirky greyhound printed blouse! The belted cardi shows off her shape while remaining office appropriate and adds a nice pop of colour with its dandelion hue. Add this bag to your lust list now and treat yourself to it after your next promotion!
Rach: Aurelie printed dress $2490, Brittany coat $3990, bird print scarf $1090, leather gloves $1290
Sassy Editor Rach can't get enough of printed dresses with sleeves and had to have this butterfly-patterned dress as soon as she saw it (and yes reader, she did end up buying it!). This lovely dress just can't be hidden behind a computer screen, so it's perfect for Rach to hit up events and meetings around town; we then tucked it under this sweet blue coat to brave the chilly weather! Now that she is all warm and toasty in her bird print scarf and leather gloves, she can hit the streets in search of the next big Sassy scoop!
DAY TO DATE

Hong Kong is a city that never stops. Just when your workday is done, you are off to meet with clients or friends for drinks and dinners and whatever else may follow (flaming lamborghinis anyone?!). Team Sassy has become masters at dressing for every event in just one outfit and then fitting in as many stops as possible along the way… fashion multi-taskers this way!
Kate: Sweater $1590, black trousers $1590, print coat $3990, embellished clutch $1490, bracelets $690-990
Kate, our Sassy Mama Editor, shows us how to tackle the workday in style and still be fashionable enough to take on the evening too! These black pants offer a flattering fit while the shimmery rose gold jumper plays up her auburn locks and sets off her snowy complexion. The Naomi multi-hued coat ties it all together; I love the shorter sleeves, which are far more practical for HK "winter" (i.e. not really winter anywhere else in the world). When after-hours calls, she can pile on the jewels, grab her bedazzled bag and set off into the sunset for a few Singapore Slings!
Vivien: Selina coat $5390, dress $2390, clutch $6990, cashmere hat $1190, necklaces $990-1290
Our Sales Director Vivien smoulders in this sizzling red coat, which could be the perfect festive choice for ringing in the New Year too! The white dress is the new LBD of the season, and the leopard cuff detail on the sleeves adds a unique touch to the outfit (P.S. hurrah for dresses with sleeves!). Transitioning this from desk to dance-floor is easy – just grab this jewel-encrusted clutch, heighten those heels, and add a bold red lip to take on the town.
Katie: Minal coat $12,990, striped pants $1590, leather top $3990, bag $2390, necklaces $1290-3390
Our resident rock star writer, Instant Goddess Katie, is never one to blend in! She takes this black and white combo to new heights with a fur panelled coat and some studded booties (model's own, sorry!). The leather top is an edgy alternative to your everyday white button-down, whilst the pants have a "Moves Like Jagger" rocker quality to them; these could also be taken into an office setting by changing shoes to a low leather loafer instead. This may be an outfit more suited to the creative workforce than the corporate world, but either way Katie's in command!
WEEKEND COOL

Now that the workweek has been laid to rest, it is time to don some easy pieces to run errands in and catch up with friends. After all, one can only talk about the TPS reports so many times before one has to contemplate more important things… like Team Rihanna or Team Miley!
Kayi: Cashmere tunic $3290, pea coat $3390, leather leggings $1590, silk scarf (worn as turban) $1190, bag $4990, leather gloves $1290
When it's time to wander the streets of Tai Hang in search of yummy treats and offbeat treasures, then Sassy Intern Kayi can do so in comfort (and style!) in this earth tone ensemble! The cashmere tunic and camel coat keep her warm and toasty, whilst the leather leggings add an instant downtown cool feel. Top it off with a turban and a leopard satchel for a pop of print, and she can shop all afternoon!
Lauren: Coat $4990, jacket with leather trim $2790, denim shirt $1390, leopard skirt $1390, cashmere hat $1190, necklace $1390
Our Editorial Assistant Lauren can scurry down the maze of steps for brunch in Poho with ease in these comfy lace-ups (model's own, daaahling!) – these are a great way to keep a leopard print skirt from looking too dressy. The denim button-down shirt and grey cashmere beanie also add a chilled vibe, leaving her ready to relax over lattes all afternoon. For added warmth and texture, layer a moto jacket and coat in a similar hue for a look that is both fashionable and functional. No matter where Saturday sends her, Lauren can seize the day in style!
Sabrina: Jillian pea coat $4390, leather leggings $1390, embellished top $2590, cashmere wrap $4290, tote bag $3990
As for me (I'm Sabrina, in case you hadn't realised!), I have long avoided leather leggings but decided to give these a go – and am so glad I did! The thick fabric panel on the back is far more flattering than having leather wrapped around the entire leg, while the shine on the front adds contour and length – result! To soften the rocker look of the pants, I added a beaded tank top that skims nicely over my baby bump. Pink and grey are a favourite combo of mine, so this Alba cashmere wrap was added in an instant! To make my look winter weather worthy, I topped it off with this pale pink Jillian pea coat, which is the shade of the season. This big tote bag holds my endless list of errands… and maybe even a few shopping scores I spied in-between!
Now you are all set for a fabulous winter – you can take these looks from the office to the after-hours scene and onto the weekend with ease! While you may want to purchase every piece you see here, you can really amp up your wardrobe with just one or two great new finds, or simply take inspiration from our looks to create cool outfits of your own. So browse the racks, pick your poison, and set off for the stylish winter wonderland that awaits you!
P.S. Club Monaco didn't pay us for this post – we just really like Club Monaco clothes and loved playing dress-up for the day! Thanks to their Queen's Road store staff for putting up with us!
Club Monaco  16 Queen's Road Central, Central, Hong Kong

2118 2989 
Photos by Sabrina Sikora Photography