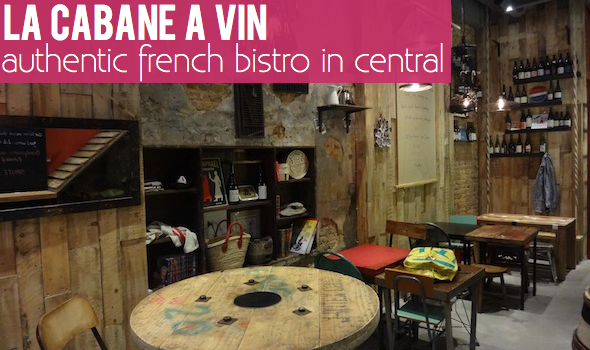 As soon as you walk into La Cabane Wine Bistro set in the heart of Hollywood Road, you instantly sense this is what Hong Kong has been looking for… something, not almost, but truly French.
This intimate bistro has been transformed by peeling away the layers of time, exposing the original brick and plaster walls and even uncovering old Chinese shopkeeper shelving now used to house all things French. The space is filled with distressed timber furnishings, innovative bottle light installations and a couple of fun French touches, giving the feeling that La Cabane has been here for life!
La Cabane's philosophy is based on sheer passion for the best natural wine and fine food. La Cabane a Vin, their two-year old sister shop down the road, is still Hong Kong's first and only natural wine cellar; business partner Cristobal explained that whilst organic wine uses organic fruit but may not be free from other nasty preservatives and chemicals used later in the process, natural wine uses organic grapes and is made with minimal chemical or technological intervention at the point of vinification.
With the bistro, the La Cabane team has now branched out into food – once again, using only the finest of ingredients from select producers (many exclusively imported and not available anywhere else in HK). The small but perfectly formed seasonal menu is tapas-like, designed to be shared, and structured into cold and hot plates, desserts and of course, cheeses.
We kicked things off with a natural sparkling rosé from the Loire Valley (beautiful) and the Cervelle de Canut, which literally means silk worker's brains! Do not fear… no brains included here, only silkily delicious fromage blanc, seasoned with chopped herbs, shallots, salt, pepper, olive oil and vinegar, making for a perfect (and extremely more-ish) dipping companion for crusty bread sticks.
Of the cold plates, the green lentil salad dressed in specialty vinegar and a little cream was divine. Simple but perfectly executed.
Rach and I were slightly nervous when Christobal ordered us the black pudding ('boudin noir')… but we're now official converts! Flown in from France, this is nothing like the scary cured sausages you may have seen before; instead, its texture was melt-in-mouth and its hearty rich flavours were an unexpected delight. The clean crisp taste of the accompanying root vegetables complemented it well, even if a few were a tad too crunchy!
We indulged in two desserts – a beautiful Bitter Chocolate Pot topped with candied walnuts (at 72% cocoa, a must for all true chocoholics!) and an exceptionally light Paris-Brest, the choux pastry filled with sweet praline-flavoured cream that was originally created to commemorate the Paris-Brest-Paris bicycle race (hence the wheel shape) and give its riders a burst of energy (a good excuse for all those calories!).
Finally, there was a magnificent slate of cheeses; my favourite was the majestic 28-month Comte whilst Rach was won over by the intriguing texture and nutty taste of the Mimolette Extra Vieille. Slates come with a selection of three or five cheeses, plus there are larger platters for bigger groups – cheese lovers, you have found a new home!
La Cabane's atmosphere is intimate and inviting, with space for you to sit and enjoy your meal, or stand and mingle with friends munching on your fromage! Service is warm and friendly; everyone here knows their stuff, is passionate but unpretentious, and is happy to share their expertise (on the night we visited, fromage expert and world champion cheese "affineur" Bernard Mure-Ravaud was also in the house)… plus there are definitely a few dishy French men too *wink*.
The menu is very reasonably priced (most dishes are around the $60-90 mark) and comes minus any 10% service charge; we already can't wait to try the Sunday brunch of Pain Perdu (French toast) or French breakfast (juice, coffee and a croissant) – after all, we're not able to stomach never-ending buffets and free-flow every weekend!
La Cabane values quality over quantity and simplicity over complexity, but in the best possible way. Leonardo da Vinci once said, "Simplicity is the ultimate sophistication"; as we all know, the French lack nothing in the sophistication department, and La Cabane is certainly no exception!
LA CABANE G/F, 62 Hollywood Rd, Central

2776 6070 www.facebook.com/lacabaneavin
Closed Mondays.
La Cabane Wine Cellar B/F, 97 Hollywood Road, Central

2517 0186 www.facebook.com/lacabaneavin
Closed Sundays.