This week's That Girl is Caratoes, graffiti artist, muralist, painter and creative. That's right, to coincide with arguably the most art-filled month in Hong Kong's year, we've caught up with a girl who creates her own incredible artwork. With a distinct creative and personal style, Caratoes is one to watch! We chat with her about her favourite things to do in Hong Kong, the art scene and the differences between being a street artist in Europe and Hong Kong. 
Fill us in on your background and where you grew up? How did you end up in Hong Kong?
I'm Caratoes and I'm a full time artist. I was born and raised in Belgium, and my family were the first foreigners of a tiny town. I have an educational background in Biochemistry and Game Design. I worked in the post production field as a 3D artist and later as a creative for Wieden and Kennedy.
I was working in Amsterdam for a few amazing years, but I wanted to be in a new environment and think of what I wanted to do in life. I thought about what makes me the most happy and I decided to move to Hong Kong to re-discover my roots. What started as a 4 month plan has been going on for almost a year and a half! The great thing is that not knowing what I really wanted to do helped me to end up doing something I'd always dreamed of.
Where do you live? How have you made your home your own?
I live In Sheung Wan, in the Sai Ying Pun district. I've actually moved 6 times in the short amount of time I've been in Hong Kong, just because of circumstances, and this apartment is the longest one I've stayed in. So the first step to making the place my own was when I bought my Eames chairs. Later on, I asked my boyfriend to make the rest of the furniture.
I used to love collecting all kinds of random things, but because I tend to move so often, I let go of that habit… it was painful to let those things go though. At this moment, I have a growing collection of paints and paintings, which makes it feel more and more my own than other places I've lived. I'm also fostering a cat and I never had a real pet before! She helps me keep the place clean – in the way that, if I leave my stuff in the living room, she will take a dump on it.
How do you describe your personal style? How does it evolve and change?
I think my personal style is pretty minimal with some more outspoken details, like jewellery or shoes. I wear a lot of black – like Wednesday Adams would say, "I'll stop wearing black when they make a darker colour".
I used to be a major tomboy, probably because I went to a Christian girls-only school until I was twelve years old. I just didn't want to be a girly girl. I bought my first real dress when I was nineteen I think, when I met my first best gay friend. I discovered that I can still look feminine, but not in a cheesy girly way. And now I barely have any pants in my wardrobe. I think about how the silhouette of my outfit looks and I have a few basic pieces that I combine with new pieces (or pieces I forgot I had). I do feel like I toned down my style compared to back in Amsterdam… I feel like it creates more awkward scenarios here.
Where do you shop in Hong Kong? Any secret finds you can let us in on?
Because I move so much I want to keep my wardrobe kind of limited. I do love vintage shopping and hunting though. I like to have pieces that no one else can easily get or find, so I don't really shop in 'real' shops. Unfortunately there aren't that many good vintage shops here in Hong Kong, so once in a while I'll stroll around Mong Kok and Sham Shui Po treasure hunting. They sometimes have really nice pieces that are good quality and it makes me feel as happy as when I find nice vintage pieces!
As well a good pair of shoes, jewellery can make everything look nice. You need some good, basic pieces.
What are your must-have beauty products? Where do you go for hair/nails/maintenance?
I can't live without day cream. I was super fond of this particular one by Garnier, but they stopped making it, so at that time I bought 6 jars. I ran out recently, so Im trying to find a good replacement. I also recently discovered the eyebrow pencil and that became one of my favourite things to use pretty fast. When it comes to lipstick, MAC is my partner in crime. Besides eyeliner, these are pretty much the only beauty products I use. One day I'll discover what everyone else does.
I am still trying to look for a good hairdresser here, so if anyone knows one who does really nice Ombre hair, let me know! There was this one nail place I liked, they had brands other places didn't have. But I had such a bad encounter with the woman who owns that place… I've never had that experience before, so now I'd rather do my own nails. Other than that I'm pretty natural and I've noticed my skin looks and feels better after a run (which I try to do every day, but it's pretty difficult to maintain. I think I have only succeeded doing it 6 days in a row and then I quit for a week).
What is your favourite thing to do at the weekend?
I rarely take a weekend off, because I'm a freelancer and it depends on how my schedule looks. Or I take a day off in between projects. I'd love to do more hikes and long-boarding in my spare time though, and I'd like to make more time for my friends.
What some are your favourite restaurants and bars in Hong Kong?
I really like this new restaurant called Bibo, you can tell that place is made with a lot of passion and care. To bring such an amazing collection of street art merged with high end art to the public is brilliant! And that combined with good food and cocktails is amazing. I also really like 208, I've eaten so much Chinese food lately, a pizza once in a while tastes even better than normal! I also really love the fried chicken and waffles at Fatty Crab…
Tell us how you started doing streetart/graffiti – what sparked your interest and how did you get your first commissioned piece?
When I moved to Hong Kong, I felt so lost not knowing the place or anyone here. I also had no idea of what I wanted to do. It drove me crazy. So I would go and hit the streets at night doing murals of my own. It felt like I accomplished something when I did. The murals got picked up by some local artists and before I know it I was part of a big group show! The gallery Above Second saw my work and offered me my first solo show right after that. At the same time, I had my first  commissioned wall from Chachawan, which felt really lucky !
I am raised very traditionally by my parents to be a good Chinese girl. With almost every decision I made I was thinking about whether they would approve in the back of my head. I wanted to blend in, but when I moved to Amsterdam I saw this whole different scene and environment. I felt reborn, like I was awake for the first time and I wanted to do everything I ever wanted to do when I was a kid. I started skating and doing a bit of graffiti a bit, and it made me want to share it with everyone – wake them up as well – so what better way to do that than to illustrate it on walls. I continued doing it here in Hong Kong, but with things that Hong Kong made me feel.
What inspires you and what's your creative process?
My daily life and my past inspires me. So do images I see on the internet and the music I listen to… I can get very obsessed by things and I will go deep into them until I cant look at them anymore. I also have that with food… so there are kind of a few things I can't eat anymore because of that!
My creative process depends a lot on what I'm creating. If it's commissioned, I see myself more as a space designer, making something that enhances the beauty of the place more with the message that they want to make. I will go to the place a few times, take pictures, do mock ups and colour studies to see what would work the best.
If it's personal it depends on what I m obsessed with. Whether it's a technique, a new colour, or an object. It can be anything. There is definitely no real routine in that, which I think its good to keep on exploring.
What are some of your most memorable/favourite works?
I still very much love the work I did in that group show, Work In Progress, at Quarry Bay. It's the highest wall I have done and back then I wasn't as skilled with spray cans. It was also such a fun piece to do together with my friend 4Get. We could only start painting when the car park was closed, so we would paint every day from 8-4am in the morning!
Also my first commissioned piece in Chachawan was pretty memorable. I had 3 days to make the design, get it approved and finish the piece. Definitely a challenge for a first commissioned wall! But as it was my first, I thought that was normal. I'm glad the people there took  such good care of us as well. It was so much fun!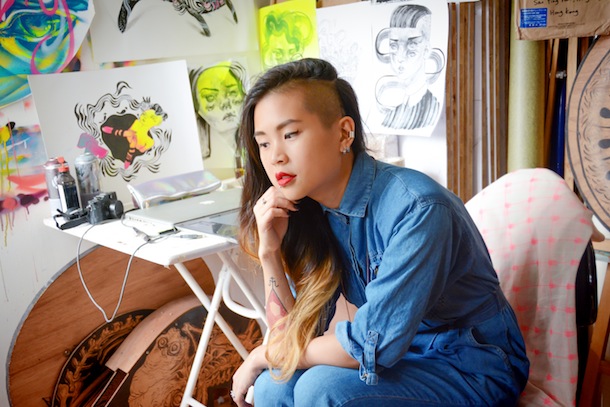 Do you find it more difficult to be a street artist in Hong Kong than in Europe? What problems have you faced because of what you do?
I actually think it's easier. When I got here I couldn't believe how empty the walls were. I was really stocked to start making some changes – wall by wall. The fact that people weren't as used to street art here then also created more opportunities. The only major problem is I need to buy more casual clothes to paint!
You grew up in Belgium and lived in Amsterdam, how does Hong Kong's art scene compare to the rest of the world? What are we doing right and what could we be doing better?
I think its hard to tell. I was not at all involved with art when I was in Belgium, just a little bit in Amsterdam, but not that much. I think maybe over here it's more serious business. In Amsterdam a bunch of my friends would just say, "hey lets organise a little show with the people we know". It would be go very organic and just for the fun of it, here it feels more serious and less spontaneous. I think it's still pretty conservative here in Hong Kong. Space Invader puts up so much beautiful work around the city, but it gets buffed at so many places. That for me raises some questions.
Who are your top 5 favourite artists at the moment?
Wah difficult, I don't really have favourite artists. There are so many! I really like David Choe – I'm really obsessed with his podcast DVDASA. Also James Jean, Felipe Pantone, Saner and Daehyun Kim.
For you, what are Hong Kong's top 5 must-see galleries?
I'm really embarrassed I don't know that many galleries here in Hong Kong! Definitely on my to do list for this year, but I d definitely say Above Second curates great work. Even though it's a restaurant, Bibo is great – the art is amazing and I think The Space has some interesting shows.
What do you love about Hong Kong and what makes it unique?
I love, love the views here. I just did a 2 day hike – the McLehose trail. I used to do 10 day hikes in Europe at least 2-3 times a year. I'm so happy I can do it right here, and the views and empty beaches are so beautiful! I just like to be shut off from the world, just with nature and nothing else around. I like to just keep on walking… The only things that ruin it here a bit are the mosquitos in the summer (check out our Top 5 Hikes in Hong Kong here!).
I think that definitely makes Hong Kong unique. You have this super busy metropolis and then a bus ride away this beautiful nature. You have the local Kowloon side but also this very Westernised part of Hong Kong. Oh, and I almost forgot, the most perfect working public transportation!
What advice would you give to other aspiring artists and creatives?
Do what makes you happy. Create out of love and passion. We're still young with no real responsibilities. Don't think of the money, you can make money later.
Give it your all for at least a year, work hard and if it doesn't work out, it doesn't work out. At least you won't have regrets! And put your work out there. Instagram is such a great tool for it. I'm slightly in love with that app. Makes the world into a game and super small. Cant believe it took me so long to get on it! @Caratoes
All photos in the That Girl article above were taken by the hugely talented Martice Milton of Martice Milton Photography – get in touch with her at martice.milton@gmail.com.
Check out the rest of our That Girls here!