Sassy Contributors
At Sassy, we have a fantastic team of writers, bloggers, photographers and girls-about-town pounding the pavements to give us the latest scoop in Hong Kong! Check out our fabulous Sassy bloggers team below!
Novella Lui
Novella is a Registered Dietitian in Canada who focuses her dietetic practice on family nutrition and women's health. Born in Hong Kong and raised in Vancouver, Novella enjoys keeping up with the latest food and health trends and shares her passion for food and cooking with others. Aside from being a bilingual nutrition and health writer, Novella is a self-proclaimed foodie who travels around the world seeking out new flavours and different cuisines. When she is not travelling, you can find her looking for delicious foods in the neighborhoods of Hong Kong, Vancouver and Toronto.
Sabrina Sikora
Sabrina Sikora grew up on sets and on the runway! From the tender age of 14, Sabrina launched her modeling career, transitioning in 2004 to work behind the lens. She now works full-time as a fashion, family, and portrait photographer and is the Founder of First Wife Studios. Armed with a big camera, bigger heels and an armful of accessories, Sabrina is ready to get the scoop on all things Sassy!
Carrie Johnson
Always looking for her next adventure, Carrie has true wanderlust and is on a mission to see as many Countries as possible. A huge fan of the great outdoors she is always up for a challenge and loves trying new and exciting things. You'll often find her working out in one of the local parks (she also runs November Project in HK - a free fitness movement) or hanging upside down from a hoop.
Virginia Chan
Leaving her previous career in Human Resources at J.P. Morgan, Virginia is a tour guide by day at Humid with a Chance of Fishballs Tours, blogger by night and avid traveller by weekend. She's a proud Vancouverite in Hong Kong exploring all corners of Asia and documenting it all down on her blog – the good, the bad, and the funny. Virginia is currently discovering her Asian roots, one flight, one noodle (slurp!) and one Canto slang at a time.
Keeley-Dee
When she's not gallivanting around the globe, feeding her unrelenting sense of wanderlust, Keeley-Dee is most likely to be found engaging with animals (and sometimes humans) on the streets, mountains and beaches of the 852…or on her couch watching re-runs of the real housewives. An organisation aficionado with an unhealthy addiction to writing lists, Keeley-Dee loves unicorns, hashtags, emojis, puppies, sarcasm, and long romantic walks to the fridge.
Pops
Hailing from Wales, Pops is a self proclaimed foodie, travel junkie and PR girl. She has lived in Asia for over five years; first Singapore and now Hong Kong. She is an avid boxer and spends her free time training in Muay Thai or sussing out the best dim sum joint.
Pearl Yan
Constantly shocking her family and friends with the most bizarre travel destinations, this Pearl finds no fun in staying in a shell and shines the most when she discovers the unknown. She documents offbeat adventures that aim to inspire (oh, that time when she had a hyena massage), and you may (or may not) find them on her blog, Miss Traveling.
Amee Evans
Born and bred in Sydney, Australia. Amee is a career traveller, quite literally. Having worked for some of the world's biggest travel brands in marketing and PR, Amee is always planning the next trip either for business or pleasure, ideally a bit of both. Aperol Spritz anyone? You'll find her strolling endlessly in her new home of Hong Kong or her current destination, scoping it out to see if it lives up to the hype.
Sally Victoria Benson
Born in Sydney, raised in Macau and now calling Hong Kong home, Sally Victoria is an entrepreneur, foodie, culture junkie, and globetrotter. A former Actress in Beijing, Sally is fluent in Mandarin Chinese and now owns and runs Macau Lifestyle, an online publication all about Macau. When she's not plotting her next business adventures, you'll find her hunting for new beauty products and exploring the city she lives in. Stay tuned for her take on all things Macau, business, food, beauty and more.
Nina Brooklyn Brown
Nina is a proudly South African blogger currently living and teaching in Hong Kong. She believes that you can find beauty in everything and that a good cup of tea can solve any problem. Be warned, she'll make you wait to eat your food so that she can take a picture of it first. You can usually find Nina gallivanting through the city looking for a good food, cool art and an even better party! Most of all, Nina believes that life is what you make it and that the best magic comes from the people you're with.
Faz Gaffa-Marsh
Faz Gaffa-Marsh is a wordsmith-ette with over 12 years' experience working and contributing to magazines all over the world. She spends most of her time double tapping on Instagram and strategising social media domination for her clients at Delilah Creative.
Simone Schulz
All the way from glorious Cape Town, Simone recently moved to Hong Kong and already feels quite at home here. Drawn to the exciting balance of East meets West, she's trying to do some balancing of her own - which is why she's equally as enthusiastic about happy hours, art and culture, and style as she is about exercise, chopped quinoa salads and doing it in her active wear.
Paloma Gerber
Paloma is a certified holistic health coach, who's passionate about showing health-minded people how to feel strong and energized by eating the right foods. She advises her clients to listen to their bodies and eat foods that grow naturally. Paloma believes in nurturing a healthy gut to optimum wellbeing. She demonstrates how to get protein, phytonutrients, vitamins, minerals and enzymes, through plant based whole foods. She teaches how to create healthy, easy-to-make dishes and how to make healthy choices while eating out. Paloma employs a gentle step-by-step approach in the journey to reach individual health and wellness goals.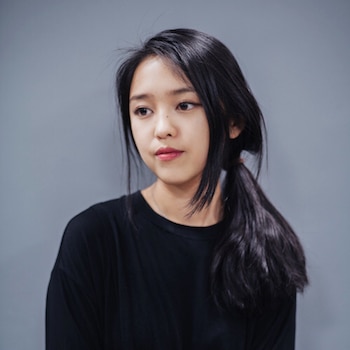 Min Chen
Min is the Senior Marketing & Brand Manager for Garage Society, a regional co-work operator and entrepreneurial hub. She moved to Hong Kong two years ago after having lived in Boston, Shanghai, and the UK. Aside from writing, she can usually be found tending to her plants or getting worked up about politics.
Elissa James
Elissa James is a senior corporate lawyer and the founder of IrisLillian.com. Having worked in the law for over a decade across jurisdictions in Australia, South Africa, Gabon and Papua New Guinea she brings a refreshing, intelligent and light-hearted perspective on the travails of professional career women and entrepreneurs. In particular, her thought-provoking Interview Series with high profile businesswomen will have you pondering the merits of gender parity one minute and in stitches the next.